This last month has just flown by, I can't believe where it has gone.   September has a sense of excitement about it to me.  As I wrote in my "Seeing Red in My Garden" post earlier this month, September mornings are usually fresh and crisp and the day warms up as it progresses.  I say "usually" because so far this September has been miserable, cold and wet.  Today has been one of the very few warm September days – how we long for an Indian Summer.
With Garden Bloggers Bloom Day looming I took a wander around the garden to stock-take and make notes on what has given up and what is still battling on bravely.  It was an interesting tour to see that despite an autumn tinge seeping in at the corners,  the garden is still full of colour.
The blues of the Ceanothus  (or Californian Lilac) with is flowering again, the little Delphinium still in the small pot it started out in because I forgot all about it, the intricate Passion Flower and the delicate little oregano flower.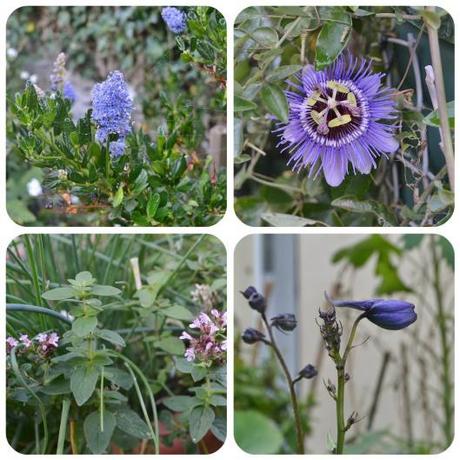 The pinks, of Fuchsia The Empress of Russia, Saliva microphylla,  Stock and of course the roses that continue to bloom.  I thought the Stock had finished some weeks ago, but no, here they are again with a second flush.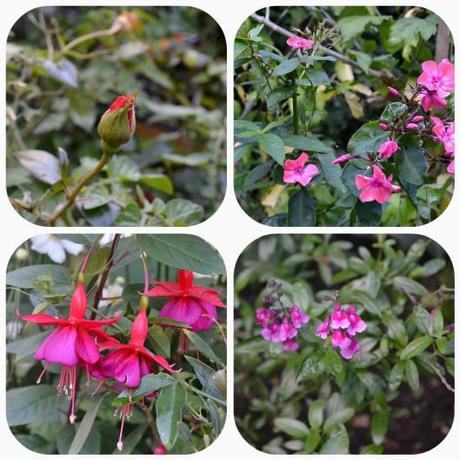 All the above colours are mixed up together with the yellows of the incredible Rudbeckia Irish Gold , Sedum and the white Japanese Anemones.  I have fallen in love with the Rudbeckia, they have survived the avaricious appetite of the slugs and snails.  Although they can be cut and look great in the house, I have left all mine in the garden just so I can keep looking at them and think, "I grew these from seed".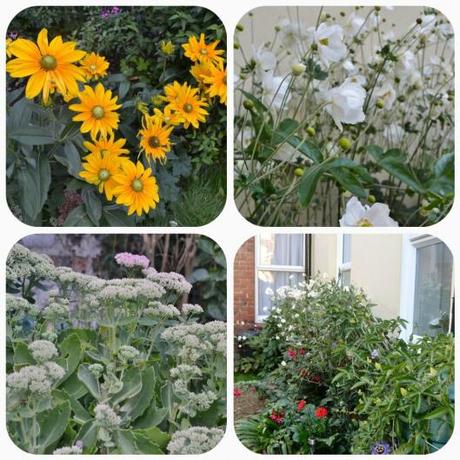 I suspect this will be the last of photos for most of these the above this year, October will bring, cleaning and tidying and pruning.  Although I do like to leave most plants standing for architectural effect in the Winter months.
I am looking forward to seeing the gardens of our Antipodean friends, as their growing season is just starting.  I can note the variety of plants they are growing with a view to introducing new ones next year in my garden.
Thank you May Dreams Gardens for  hosting this wonderful monthly Garden Bloggers' Blooms Day.  Please pay her a lovely blog a visit and then view other participants too.