There are times when the good intentions of writing regular posts on my blog could fall by the wayside, for want of inspiration,  if it were not for other bloggers and their great memes.  May 15th is Garden Bloggers Day hosted by May Dream Gardens.  When my blog reaches a year and beyond, I will be able to join other more seasoned garden bloggers and look back on earlier posts to compare differences and changes over the year.
I wrote recently about the various Aquilegia in the garden and posted lots of photographs so I won't bore you with repetition.  It would be too easy, and lazy, just to sit here and fish out pics I have taken in the last week or two.  That wouldn't be fair and besides, I like to show you the garden as it is on the day I publish a post.  So, late this afternoon, I donned my shoes, picked up my camera and ventured into the garden.  Just as I started to shoot, the wind arrived!  Everything was swaying too and fro and presented a challenge, it really is not easy to take a photograph when just about to click the shutter, a gust of wind whips away your target.  However, I managed to capture a few.
My Hardy Geraniums or Crane's Bill are taking over the flower border, again.  I chop them down on regular intervals and they seem to love it, either that or they are being like defiant children and growing larger and bushier just to get one over on me.  This one is Geranium Album – it is a tiny pretty flower with a heavily scented leaf.  You certainly know when you have touched this plant, and after pruning the aroma whafts around for ages!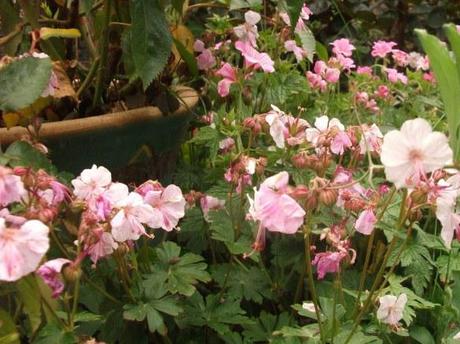 This unusual star like geranium is Geranium x.oxonianum f. thurstonianum.  Note the difference in the leaves between this and the Album.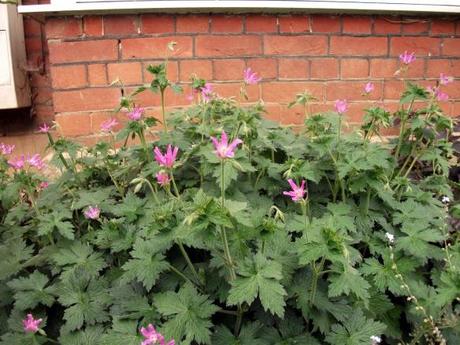 If you are going to grow hardy geraniums, I think that no garden is complete without Johnson's Blue, again another different leaf shape.  Maybe one day I should just post photos of geranium leaves.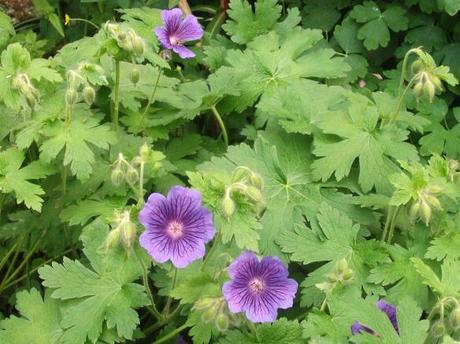 Much to the delight of the greenfly, a few of my roses are blooming early.  Some years ago I was bought, as a birthday present, a yellow climbing rose called Golden Showers.  Jennifer, if you are reading this, it is the one you gave me.  I nearly gave up on it last year, it has always been spindly and weak looking, so I pruned it heavily, thinking this will kill or cure.  It cured.  It is flowering this year in great profusion, but the buds seem to last longer than the blooms, which start to fall after a few days.  However, as this is Gardeners' Blooms  I won't show off the buds.   I managed to capture this, you can see how loose the petals are and I expect they will shower down by tomorrow.  It has a very gentle pink tinge to the edge of the petals which is more pronounced when in bud, but nevertheless, makes it a pretty bloom.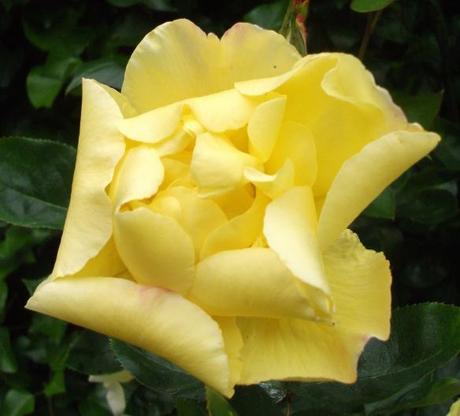 The other rose that is out is a pure white which I inherited in the garden, so I can't give you its name.   It has no perfume, which I think for a rose is a travesty, but it flowers away from now until the mid-Winter.  Oh yes, it was still flowering on Christmas Day!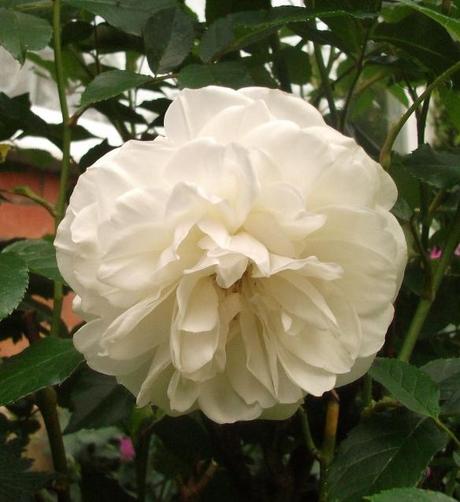 Not a rose but called Rock Rose, the Cistus is in full swing.   It's a great shrub because it is evergreen and fills an otherwise empty gap in the corner of the garden.  It is a bit too happy where it is though and will shortly have to be pruned into shape and cut down to size before, like the geraniums, it takes over that part of the garden.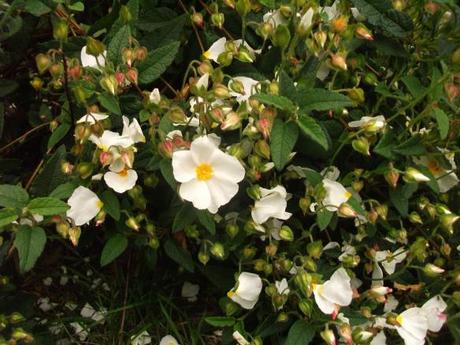 When I left the house yesterday morning, (Saturday) my poppy was still in tight bud.  This afternoon, it had broken into flower and by the time I came to take a photo, it was closing again and sadly, like the Golden Showers rose, it will probably drop its petals tomorrow.  This plant, always surprises me.  The leaves withstand the winter, and it is clearly a tough plant, yet it produces a tissue paper like flower which only lasts a couple of days.  I love the salmon pink colour and its size.  I bought it because it is called Victoria Papaver orientale Victoria Louise after one of my daughters, although her second name is not Louise  (in case she reads this and feels inclined to comment).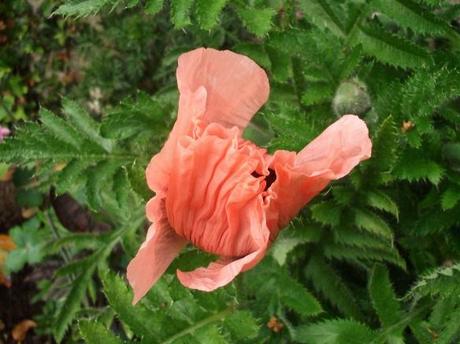 Finally, at long last my Ceanothus or Californian Lilac has come into flower.  I have seen many in a full haze of blue over the last few weeks, and come home to look at mine wondering what its problem was.  Seems, nothing apart from the fact it clearly wanted to take its time.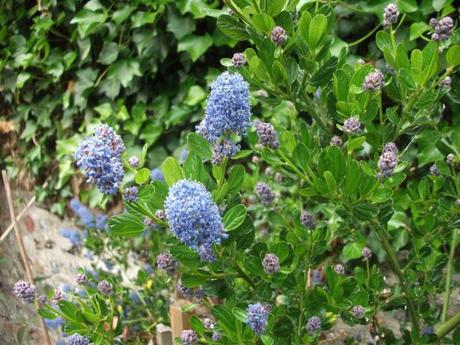 So, these are some of the blooms in my garden in May.  It will be interesting to return to this post in May 2012 and see what, if anything, has changed.