Any chocolate chip cookie with brown sugar in it is by default a winner in my book. But by having a quick dip in a chocolate ganache pool, these were bigger winners!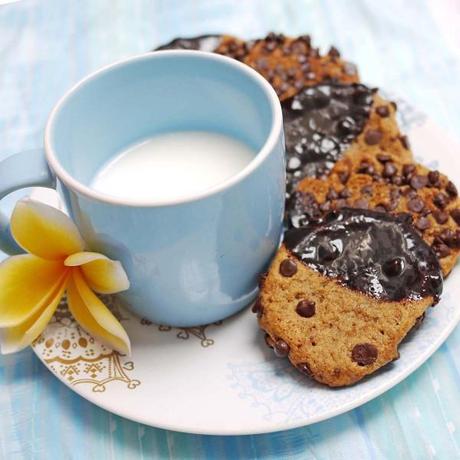 Okay, i admit, these are a bit indulgent.
I would have made these a long long time ago if it weren't for the 2 hours chilling time. I do most of my bakings in the morning, and the 2 hours chilling time is not exactly convenient in my daily mad morning rush.
I could have made the dough the night before , but i don't like the idea of going to the kitchen and start pulling out my mixers, mixing bowls, and other related cookie making kitchen utensils in the evenings.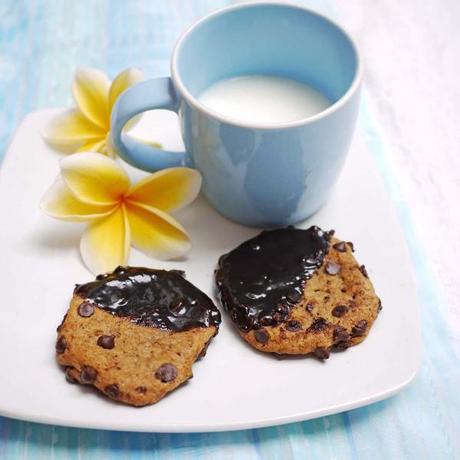 So, finally, this morning, i woke up extra early, and get myself a 2 hours head start just for these. And boy, was it worth it.
Oh, I really wouldn't advise you to skip the chilling, cause without it, the dough would be too soft to handle.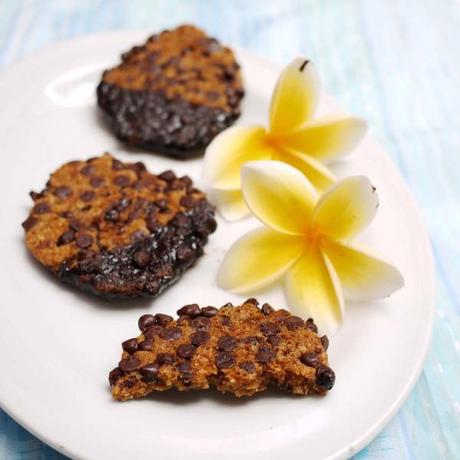 So anyways, instead of dumping chocolate chips into the batter, individual scoops of unbaked cookie doughs were rolled into the choco chips . This caused the underside of the cookies to be delightfully overpopulous with said chocolate chips

Even i myself was pretty surprised.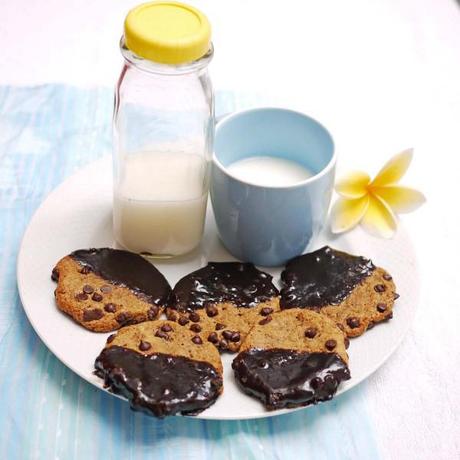 While the cookies were deliciously chewy, moist and worthy of the classic american chocolate chip cookie title, the ganache wouldnt completely dry out. And since i was bringing them to work ( i  cant trust myself to leave them at home), stacking them together was quite a messy business.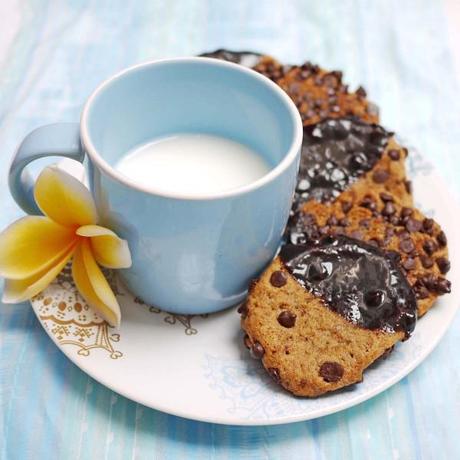 So if you were planning to take these on a trip outside your home, i would suggest reducing the cream from the chocolate ganache. And unless you have some Herculean willpower, i woud really really suggest you bring these out of the house asap!
Ganache Dipped Chocolate Chip Cookies
Taken from What's Gaby Cooking
Ingredients:
1 cup unsalted butter (at room temp)
1 cup brown sugar
1 cup white sugar
2 eggs
2 1/2 tsp vanilla extract
2 1/2 cup AP flour
1 tsp salt
1 tsp baking soda
1 tsp baking powder
2 cups Chocolate Chips
1 cup heavy cream
8 oz bittersweet chocolate
Directions:
Preheat your oven to 350 degrees
Cream together the butter and sugars in a mixer. Add the eggs and vanilla, making sure to scrape down the sides of the mixing bowl. Add the flour, salt, baking soda and baking powder and mix on low until everything is incorporated.
Chill the dough in the refrigerate for 2 hours. Scoop out a 1/4 cup size of dough and roll it into a ball. Roll it around in some Chocolate Chips and place on a parchment lined baking sheet. Place 6 cookies on a sheet since they will spread due to their size. Bake for 12-14 minutes until just slightly golden around the edges. Remove from oven and let rest on the baking sheet. *Note* The might look a little under baked in the middle – but don't fear!! They will continue to bake a bit once removed from the oven.
While the cookies are cooling, go ahead and make the ganache.
In a small pot, bring the cream to a low simmer. Remove from heat and stir in the bittersweet chocolate with a wooden spoon until fully incorporated. Dip half of each cookie into the ganache and set on parchment paper to dry