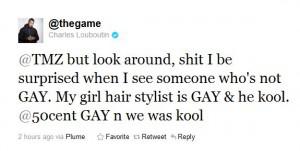 The Tweet In Question
09/12/2011 – by Cynthia Wright
Who knew that Game was such a huge Twitter user? Maybe it's because he only needs 140 characters worth of thoughts in his head at time. Any who, stemming from his "revelation" that there are plenty of downlow men in the music industry, Game decided to expand further on why this topic needs to be addressed.
Game, the self-appointed knower of all things downlow, answered that there is nothing wrong with the gays. In fact, his (cough) girl's hairstylist is gay…and so is 50 Cent!
Of course, this sent the internet ablaze (well, not really…) but it did bring into question, how does Game know for sure that 50 cent is gay?
Surprisingly, 50 Cent has not responded to Game's statement. Being that this is the man who put "Officer Ricky" on the map, his silence is quite interesting.