6/21/16
Trivia Answer: "That's What She Said" was one of Michael Scott's favorite lines on The Office. You could argue that Mike Myers from Wayne's World also used that phrase and yes, I did give you credit, but I Michael said it week after week, season after season

First Fives: Ed Ziskind, Mike O'Dea, Michelle Katz, Bobb

y Aguilera & Priscilla Paez



Honorable Mention: Eric Schwartz

THE NUMBERS
Friday's Broadcast Top 5
America's Got Talent (R

)

-NBC .9/4.3
What Would You Do?-

ABC .9/3.8
Shark Tank (R)

- ABC .8/3.8
20/20-ABC .8/4.0
Blue Bloods (R)-CBS .7/5.8 
Friday's Cable Top 5
Family Guy-Adult Swim .9/1.9
Alaskan Bush People-Discovery .6/2.8
American Dad-Adult Swim .6/1.2
Big Bang Theory-TBS .5/1.8
OJ

: Made in America-ESPN .5/1.4
Friday's Social Media Top 5
OJ Made in America-ESPN 26,000 Tweets
WWE Raw-Syfy

24,000 Tweets
Wynonna Earp-Syfy 16,000 Tweets
Real Time with Bill Maher-HBO 8,000 Tweets
Girl Meets World-Disney 7,000 Tweets
Sunday's Broadcast Top 5
NBA Finals Game 7-ABC

11.2

/

30

.

8

WOW!!!!
NBA Countdown-ABC 4.6/12.6
Jimmy Kimmel Live-ABC 4.0/11.8
US Open Gol

f Championship-FOX 1.7/7.2
American Ninja Warrior-NBC .7/2.4 
Sunday's Cable Top 5
NA
Sunday's Social Media Top 5
Game of Thrones-HBO 388,000 Tweets
Keepin

g Up With the Kardashians-E! 26,000 Tweets
Penny Dreadful-Showtime 14,000 Tweets
Real Housewives of Dallas-Bravo 8,000 Tweets
The Last Ship-TNT 5,000 Tweets 
Late Night Ratings for the Wee

k of 6/6/16-6/10/16
Fallon .8/3.3
Kimmel .7/2.5
S

eth .4/1.4
Colbert .3/2.0
Corden .2/1.0
Carson .2/.7
Conan

.2/.5
NBA Finals In

fo:
Game 7 of the NBA Finals del

ivered the largest TV audience since the Oscars

The NBA Championship game

was

the highest rated

on ABC

T

he 11.2 rating is the best number for any program since the Super Bowl in February.
The game beat the Oscar's by 7/10th

s of a point

  
This was the

b

iggest NBA Game since June of 1998

-

Michael Jordan's final game with the Bulls
THE SHOWS
GAME OF THRONES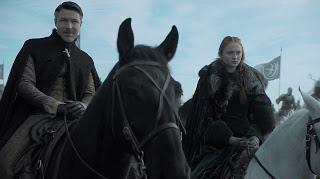 I tried writing this since review

right after

I finished watching Sunday's episode of Game of Thrones last night

but

the words didn't come out of my fingers and brain as easily as they should

have. I think

it's because my mind was blown. Just when you thought GOT couldn't get any better, just when

I thought I'd

seen everything possible, they

went

and g

a

ve us the best episode EVER. Started out with Dani, Tyrion and th

e

Dragons. Then, Theon and his kickass sister

showed up

and started their own

alliance complete

with a cool new handshake Cut to Jon Snow and his crew prepp

ing

for the Battle of the Bastards. They really didn't have much of a plan at all. Sansa warned

JS

to think outside the box. She kept telling him that Ramsey was a sick twisted f*ck

and he needed to expect the unexpected,

but he really didn't listen. He's never had time to s

it down and watch Big Brother to know what that even means.

Instead, he went to see the Red Witch and basically we all prepped for

Jon Snow to die all over again.

It was billed as the "Battle of the Bastards" and

i

t was seriously one of the most violent, bloody, crazy, stressful, intense pieces of filmaking I've ever seen. When Jon was getting buried by bodies, I thought for sure this was it...he's dying again but NOOOOOOOOO he somehow got up above the body parts to breathe, but it wasn't over. Ramsey had the numbers and surrounded what was left of our guys and started smushing and spiking them all but then...when we thought how the hell is JS going to get out of this? The cavalry arrive

d

...SANSA and LITTLEFINGER saved the day. That's who she sent the letter to and thankfully the Westeros Post Office was working way harder than the Tenafly Post Office. Littlefinger obviou

sly

got the letter, got an army together and got to Sansa JUST in the knick of time. (I'm sure he's gonna want something BIG in return) Then...after the dust settled and Jon had gift wrapped Ramsey and left him tied up in a bow for Sansa to handle, the best ending ever...hungry dogs ripping apart their sick, twisted, horrible, master piece by piece. The women of Game of Thrones kick

ed

ass and t

ook

names and my bet at the end of this thing is that we don't have

one

king...we have queens.

Seriously best episode everrrrrrrrrrrrrrrrr!!!
Odd Mom Out
Man I missed Jill and Odd Mom Out! She was back getting her annual mammogram and screaming

out loud

everything I never say when my boobs are being squished like pancakes. Jill's been taking a Brooke break since last season, Lex is at some cool country club for divo

rced

dads. Is that a real place rich dads can go to when their rich wives throw them out? Jill was trying to get back into the workforce now that her kids would be in school full time. Loved how she stopped and pulled out the Working Girl tune "Let the River Run" in the middle of the street. Also loved the outfit she interviewed in. Where on earth does one find something like that? Her husband was home with the kids and at the end of both of their

days, when they snuggled up together I loved that they both agreed that their kids were just plain ANNOYING! 

Bravo has the next two eps ready to binge online, but I was exhausted from Game of Thrones to watch those and UnReal, so I've got a ton to get to tonight. Welcome back Jill...missed you! 
THE OTHER STUFF
-I literally had tears rolling down my cheeks this morning watching the latest Jimmy Kimmel Father's Day Challenge. I have no idea why I found kids throwing sh*t at their Dad's so freaking funny, but I did. I think it's just so hilarious that all Dad's seem to be oblivious to what's going on around them at any given point. http://www.youtube.com/watch?v=Y36XFFZTNKw
-Some are better than others, but honestly, they're all pretty good. You'd think we'd start to get sick of um but we just don't. I mean I don't. I get that stupid smile as soon as I see the Range Rover and James on the road. This IS Carpool Karaoke with...Selena Gome

z. Enjoy! 

http://www.youtube.com/watch?v=mNcdlLIOdNw
-Apparently, when Season 3 of Penny Dreadful ended Sunday night, the cl

osing credits said, "The End."

I was literally in a media blackout all day and didn't read anything at all about it

until last night,

but I LOVE this! No big warning, no fanfare, the fans and the press had no idea the end of this one was coming. It also meant little pressure on the finale. Brilliant idea, wish I thought of it. Can it ever be done again? YES! It can, we all don't have to know when the end

of one of our faves

is coming, do we? I know the nets are looking for anything that will boost a shows ratings and finales are always ratings winners but when you look at ratings in general, they aren't THAT big

with the exception of
-Carrie Underwood's still got her Sunday Night Football theme song gig, but Joan Jett's "I Hate Myself for Loving You" is out...Miranda and Carrie's "Somethin Bad' is in. New lyrics of course but the new

"Oh Sunday Night" will be ready to rock by 9/8 for the premiere of NBC's Sunday Night Football
-If you have any time, Ray Donovan fans, the premiere is already available on Showtime.com, You

Tube

and Itunes. I've got a busy week, but if I can get to it before Sunday...I will! Summer fun starting to heat up

...Big Brother TOMORROW!!!

 
Tues

day's Trivia Question:

Who

was known for saying, "How YOU

doin?"



[email protected]
WWTM-Kristy
Like me on Facebook at Watching Way Too Much
Follow me on Twitter at tvnme
http://watchingwaytoomuch.com