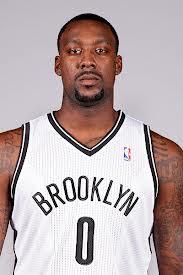 22 points, 11-12 shooting, 20 minutes. Yep, this Andray Blatche. Yep, the guy who was amnestied this summer. Yep, the guy who was sent home by the Wizards last year because of his lack of conditioning.
Another weird, sloppy, and competitive game, another win for the Nets. Brooklyn extended its season-long winning streak to five games by taking care of the hapless Sacramento Kings at the terribly-named Sleep Train Arena (which I thinking should just be called The Sleep Train, in the vein of The Soul Train). It certainly wasn't pretty--we seem to be saying that about a lot of the Nets victories this season--but it goes on the left side of the W-L column which is all that mattered.
The Nets went to the paint for scoring throughout much of the first half, feeding Brook Lopez the ball a bunch early on, and he went to town against DeMarcus Cousins and Jason Thompson. Brook faded away after the first 12 minutes of play and only ended up with 13 and a measly five rebounds on 5-14 shooting. Fellow starting big man, power forward Kris Humphries, was an afterthought on offense, taking just six shots and scoring six points. The real story of tonight's win was a backup forward who possibly had the game of his career.
Andray Blatche was simply unconscious from late in the first quarter to late in the third. Blatche, who I mentioned as a player to watch in my preview, couldn't miss anything. He hit his first nine shots--a miss of crafty layups, drives, and some admittedly low-percentage jumpers too--and scored 18 points by halftime, basically leading the Nets to a 33-22 second quarter by himself, hitting all six field goals he attempted in the quarter. The Nets constantly went to him to build up the lead they would nurse throughout the second half and he responded to the extra burden, attacking the rim with no mercy for anyone in his way. In one word, Blatche was unstoppable, and that's no exaggeration
Granted, it wasn't only Blatche who helped the Nets extend their winning streak. As he has done for much of the year, C.J. Watson managed the court admirably when D-Will wasn't in, hitting a couple of enormous, momentum-changing threes along the way. Watson finished the game with 13 points, three assists, and maybe most importantly, not a single turnover. Brooklyn needed this production from the bench--the bench scored 52 points on the game, outscoring the starters by five points--in order to win since they got next to nothing from Hump, Joe Johnson (10 points, 1-10 on field goals, 8-9 on free throws), and Gerald Wallace (four points) returning from injury.
Another Nets reserve who stole the show was MarShon Brooks. Essentially taking over the role of closer, normally given to D-Will or Joe, Brooks drained a three-pointer with 50 seconds left in the fourth quarter that essentially ended the game. In addition to his dagger jumper, MarShon had a bunch of his patented penetrations which he finished of with a nifty layup or short floater. It was great to see that on a night when their star players couldn't consistently play well throughout the game, the Nets were able to get great performances from their bench, which they were able to ride to a victory against a flawed but nevertheless talented Kings team.
Some other observations I had from the game
: Still no sign of Mirza Teletovic. The Bosnian hasn't appeared in a game since last Friday's win over the Magic. Obviously, he's in Avery's doghouse but he's never going to learn how to play the right way if he doesn't see any game action. It doesn't (and probably shouldn't) have to be during a close game but just for a few minutes in a game the Nets are winning would be fine, at least in my opinion.....We got killed on the boards, outrebounded by nine in favor of the Kings. Brook seems to be regressing in terms of rebounding effort/knowledge/skill/intensity which is very troubling. Hump clocked in with his normal 10 boards, D-Will had a surprising five, and Reggie Evans ended up with just four in 22 minutes as he struggled with the physicality of the Sacramento bigs, like DeMarcus Cousins (29 points, seven rebounds).....The Nets played great defense though, both on the perimeter and down low. Brook (four blocks) and Hump (two blocks) didn't let the Kings get off a lot of uncontested shots at the rim. This, along with the perimeter d, was undoubtedly helped by the return of Gerald Wallace, the Nets' best defender. Wallace obviously wasn't at 100 percent but certainly gave it his all, jumping out to contest jumpers and collapsing inside to help out his teammates.....Sleep Train Arena sounds as bad on a broadcast ("And we welcome you to YES Network, where the Nets and the Kings battle it out at Sleep Train Arena here in Sacramento". For the record, not exact line from the broadcast but you get the point) as you might think it would. I still think it should be called the Sleep Train or, simply, The Train.....Travis Outlaw didn't enter the game so I couldn't make fun of him. This made me very sad....Ok, that's enough.
Looking Ahead
The Nets head south to Los Angeles to play Dwight (ugh), Kobe, Pau, Metta, Steve (just Blake, Nash is hurt), and the rest of the Lakers (so, not much). Interesting note: Mike D'Antoni is expected to serve his first game as Lakers' head coach on Tuesday so the Nets could either be his first loss with the team or his first win. I'll take the former.