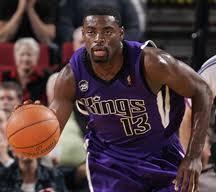 We know his name is Tyreke Evans. The only thing we don't know is what position he is.
Update: According to the Nets' beat writers on Twitter, Gerald Wallace is playing tonight. We love you Keith Bogans, but go back to the bench where you belong!
When: 6:00
pm; Sunday, November 18th, 2012
Where: Sleep Train Arena (really?); Sacramento, CA
TV: YES Network
Tonight we have a matchup between teams that are at completely different ends of the NBA spectrum right now--and different coasts of the US. The Nets, coming off of a nationally-televised win on Thursday night over the Boston Celtics, have won four games in a row and will probably be getting starting small forward Gerald Wallace back from injury. The Kings, on the other hand, have lost their last four games, most recently falling to the Atlanta Hawks in Sacramento at the absurdly-named Sleep Train Arena. The last loss led veteran players Chuck Hayes and Francisco Garcia to call a players-only meeting to hash out the team's struggles. Closed-door meetings nine games into the season is never a good time. 
Sacramento isn't a very good team, but they probably aren't as bad as their early-season record indicates. They have a bunch of really good pieces, like position-unknown Tyreke Evans, forward-center DeMarcus Cousins, and forward Thomas Robinson (5th overall pick out of Kansas in June's draft). However, a lot of their talented players have some glaring problem or disadvantage that limits their success. For Cousins, it's his notoriously bad temper, which led to a one-game suspension a few days ago for confronting Spurs' broadcaster Sean Elliot after a game. And for Tyreke Evans, it's that he has no true position. He's too big to play the point and too small for power forward while not being just quite right for shooting guard or small forward. To say he's an enigma as a basketball player would be an understatement.
The key for the Nets today is to continue playing with the great intensity we have seen from them over this winning streak. When their more defensively-focused big men (like Hump, Reggie Evans, Blatche) play physical basketball down low, they tend to grab more rebounds, play some tenacious interior defense, and just generally disrupt the flow of the opposing team's game. Knowing that Cousins tends to do some talking and is prone to committing technical fouls when he's pissed-off, it would be smart for the Nets' resident pisser-offer, Reggie Evans, of course, to go at him a little extra harder than with other Kings players just to rile the third-year player up a bit and get him in foul trouble or possibly even ejected.
I'm not saying to start a fight with the guy, I'm just saying to get under his skin enough so that it affects his play.
Hump and Blatche aren't in the pest game as much as Reggie is, but they can control the frontcourt with their play. We have seen from Hump in recent games that his poor start on the boards at the beginning of the season was an aberration and that he can be counted on for eight-to-12 rebounds every game. Coming off the bench, Blatche can be more of an offensive force to go against the Sacramento backups and use his post-game skills to wreck havoc down low. Couple the favorable matchups they will face from the Kings to the fact that Brook Lopez is on a scoring tear, and it looks like the Nets will have a field day against the Kings, especially close to the basket.
It also appears that Brooklyn's Backcourt is poised to have a big game. Most likely, Deron Williams' counterpart at point guard will be
the other
Isaiah Thomas, whom D-Will has a six-inch height advantage over. We all know that D-Will loves using the post-up to initiate the Nets' offense which is something significantly easier to do when half a foot taller than your defender. Joe Johnson will probably be going up against Tyreke Evans, who--although be a tad smaller than Joe--is a really even physical matchup for the Nets' swingman. Evans is more built and strong, presenting a tough defensive assignment for Johnson and possibly an even more frustrating offensive assignment. Joe's game is predicated on finesse and using his large 6-7 frame to get by less athletic and smaller players guarding him. It'll be interesting to see how he does up against Evans today.
Probable Lineups

NETS- D-Will (PG), Joe Johnson (SG), Wallace (SF), Humphries (PF), Lopez (C)
SAC- Isiah Thomas (PG), Evans (SG), James Johnson
(SF), Jason Thompson (PF), Cousins (C)
Final Thoughts
Even though the Kings aren't nearly as bad as their 2-7 record indicates, they still are a lottery team, thus making this game as much of a must-win for the Nets as possible. The first game after heading to the Pacific timezone from the East Coast must be difficult for the players, but it's still not legitimate enough to warrant any sort of a letdown, especially with the Lakers coming up on Tuesday. Also, I really want to beat Travis Outlaw's team badly because of the angst that guy caused me in his short stint in New Jersey. And because we're still paying him right now.