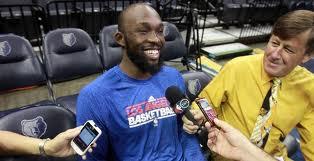 Reggie Evans may seem laid-back and calm in this picture, but in the game--especially when rebounding--he's downright terrifying. Also, very good at rebounding.
The Nets don't really like to put teams away, it seems. Yet again, they jumped out to an early double-digit lead and let their opponent right back into the game via some terrible defense, isolated offensive "sets", and a simple lack of hustle. Frankly, they got lucky that the Celtics--especially Jason Terry and Paul Pierce, normally good free throw shooters--couldn't hit a shot from the charity stripe when the game was on the line. Maybe it was the ominous "BROOK-LYN, BROOK-LYN" chant, maybe Avery Johnson's bizarre fouling-while-leading-with-more-than-30-seconds-left strategy, who knows what caused the normally-automatic free throw shooters Paul Pierce and Jason Terry to miss a combined 2-6 from the line in the final quarter. It sure was a weird game, but it was a Nets win, and that's all that matters.
Brooklyn's 5th win of the season started off like many others so far this season. The Nets started off the first quarter hot on offense, spreading the wealth and draining a bunch of shots very quickly. Of course, the defense wasn't very good but the team ended up taking a 5-point lead after the first 12 minutes by a score of 31-26. The second-team picked up where the starters left off and extended the lead to 59-50 by half. Then came the patented letdown that has accompanied basically every Nets double-figure lead this season. Via a combination of horrid Nets shooting, classic Boston passing and court spacing, and improved Celtics rebounding,  Doc Rivers' team stunned the home team in the third quarter and grabbed the lead right back by the end of the period.
That third quarter, save for possibly the fourth quarter against Minnesota and the whole game against the Heat, was the worst the Nets have looked this season. The lack of chemistry the recently put-together Nets showed was very scary as they made a bunch of awful passes and terrible decisions, reminding us all that regardless of its record, it'll take most of the season for these players to mesh well with each other. There are certainly going to be good periods, where everyone plays within themselves and it looks like a championship in within reach. There are also going to be poor stretches of play, where the Nets look like they belong back in Newark and it appears that Stephen Graham, Johan Petro, and DeShawn Stevenson can't be very far away.
The team went through that adversity today and even though it displayed some dreadful basketball, our Nets showed us that they can pick up the slack when needed--against a top team like the Celtics--and ride that momentum wave to a win. That's what we saw in the fourth quarter.
Some other observations I had from the game:
Let's go off the court first. The TNT broadcast team that did tonight's game--Mike Fratello, Marv Albert, and Steve Kerr--is simply perfect. They have the former player and GM (Kerr), former coach (Fratello), and broadcasting lifer and Hall-of-Famer (Albert). They make observations and add details to the game that most other national crews just don't. I also loved the fact that Fratello and Albert were both former YES announcers, spending a few years with the Nets each. I'm not sue there's a better call in basketball than Marv's "Yes!".....Another big scoring game from Brook Lopez (24 points on 11-14 shooting). However, his rebounding was horrid. I know he ended up with six, but there countless times during the game that Brook got his hands on a potential board but let it slip right into the hands of a Celtic. Lopez isn't gonna be a great rebounder overnight, obviously, it's going to be a prolonged process.....Another quiet double-double (10 points, 13 rebounds) for Kris Humphries. Hump just does what he has to do--day in and day out--on offense and defense under the radar. Dude gets his job done.....24 points from D-Will and 19 from Joe Johnson. Each of them shot poorly from the floor yet again but hit a bunch of threes and all their free throws at end of the fourth quarter with the game implanted squarely on the line. We saw a little too much Iso-Joe tonight, mostly in crunch time, with him going back to his Atlanta days and taking some really contested shots. Avery has to make sure that the ball for each Nets play at the end of game is in D-Will's hands to begin with and a set is ran from that setup. Pick-and-roll, backdoor cut, or a few screens. I don't care what it is, I just know that the Nets need more movement in their offense at the end of games when they need a bucket. Standing around and throwing up jumpers just isn't going to work.
Looking Ahead
The Nets have their first two-day break of the season as they head to California for their annual
Thanksgiving
road trip. First, they hit up the state capital, Sacramento, to take on the Kings.