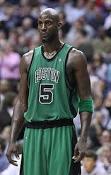 Kevin Garnett is scary both on and off the court.
When: 8:00
pm; Thursday, November 15th, 2012
Where: Barclays Center; Brooklyn, NY
TV: TNT (Marv Albert is doing the play-by-play!)
Three-game winning streaks haven't been all that common for the Nets in recent years. Other than one they had from March 28th-31st of last season,
the franchise's last streak of that length was all the way back in the 2008-09 campaign, when they finished up their annual West Coast
Thanksgiving
road trip with three straight victories against the Kings, Jazz, and Suns. Now, the Nets find themselves in that unusual--yet still completely awesome--position of having won their last three games in a row and can extend that streak to four games if they can hold off the Celtics tonight in Brooklyn. Granted, that won't be an easy task as Boston owns the Nets, winning the last three meetings and, going back even further, winning 18 of the last 20 games between these two squads.
Boston is on its own three-game winning streak right now, with wins coming against the Bucks, Bulls, and the Jazz.
In the most recent victory, coming last night at home over Utah, the Celtics improved their season record to 5-3 behind a 23-point performance by Paul Pierce, who was helped out with twin 16-point games by reserves Jeff Green and Leandro Barbosa. Both the Nets and Celtics are on top of their games right now, but those hot streaks haven't come without their fair share of consequences. Of course, those consequences are key pieces not being available due to injury.
Boston will be without Rajon Rondo for tonight's game as the Celtics' starting point guard
sprained his ankle in yesterday's win
. Obviously, this is wondrous news for the Nets, who never stop Rondo from putting up ridiculous statlines against them, most of the time occurring in big Celtics wins. Also, backup point guard Avery Bradley is the team's only other significantly injured player and has been out since last season with a shoulder injury. I guess that means that either Courtney Lee or Jason Terry (possibly Leandro Barbosa) will take over at point for Doc Rivers and the Celtics. Nothing has been made official yet though.
For your Brooklyn Nets, Gerald Wallace is out for the sixth-straight game but MarShon Brooks looks to be able to play. It feels like Gerald hasn't even been on the team so far, considering he hasn't played since the season opener against the Raptors almost two weeks ago. In addition, the Celtics were the team that originally drafted Brooks two years ago, just to trade him away a few picks later. Maybe we'll see an inspiring revenge return from injury from MarShon tonight? Eh, we can hope.
Probable Lineups
BOS- Lee (PG), Terry (SG), Pierce
(SF), Garnett (PF), Bass (C)
NETS- D-Will (PG), Joe Johnson (SG), Bogans (SF), Humphries (PF), Lopez (C)
Final Thoughts
The game is on TNT, meaning that it's nationally televised. I love having Ian and Spanarkel broadcasting Nets games as much as the next guy but being on primetime country-wide television represents another milestone to be broken for this rebranded franchise. There's no way in hell the Nets of previous seasons would have multiple ESPN/ABC/TNT appearances in one season--let alone one month--with the way the team's roster has been constructed since the breakup of our big three (Vince, J-Kidd, R-Jeff). It shows that the fans want to see this team play and major networks want to fulfill that want by exhibiting our Nets to the whole United States (and to foreigners as well, I'm sure). Add that to the fact that native Brooklynite Marv Albert is calling the game and we get a contest that transcends the on-court action, a week-day spectacle if you will. A win would be nice--and possible with Rondo's injury--but it's not completely imperative. Tonight is to simply show NBA fans anywhere that the Nets mean business and aren't a pushover anymore. BROOKLYNNNNNNNN!