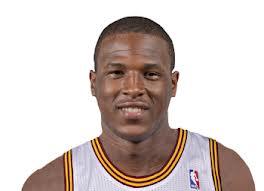 Some around the NBA ridiculed the Cavs drafting guard Dion Waiters with the fourth overall pick in this summer's Draft. After seeing how he and sophomore sensation point guard Kyrie Irving are playing with each other early on this season, those critics are probably eating their words.
When: 7:
3
0 pm; Tuesday, November 13th, 2012
Where: Barclays Center; Brooklyn, NY
TV: YES Network
The Nets and Cavaliers are very similar teams in their general talent distribution, but very different in total amount of talent. Each team's focus is certainly on their backcourt, led by strong point guards and shooting guards. Obviously, the Nets have Deron Williams and Joe Johnson, a pair who have been around the proverbial block in the NBA and have attained veteran status. The Cavaliers have Kyrie Irving and Dion Waiters at the 1 and 2, whom they acquired in the 2011 and 2012 NBA Drafts respectively. Deron and Joe have the experience and are the more-established pairing while Irving and Waiters have youth on their side, and are arguably more explosive than both D-Will and Johnson. These four guards duking it out later tonight at the Barclays Center will be fun to watch, and whichever backcourt outplays the other will probably determine the winner of the game.
The Nets are actually catching Cleveland at a pretty good time, considering the Cavs are playing their sixth, and final, game of a brutal road trip which has taken them to LA and Oklahoma City, among other places. A road trip which they are currently just 1-4 on and a road trip which they want to end as soon as possible, inviting the possibility of a let-down game by a team that just wants to go back home immediately. That's certainly an advantage in Brooklyn's favor but, as we have learned with the Nets in recent years, they can't take ANYTHING for granted against a lower-level team. Too many times have the Nets lost to awful, awful teams that have they have rightful reason to be losing to. They can't have that happen a lot this season if they are going to be a playoff team. No chance.
While Cleveland is coming off of a 15-point loss to the Thunder and are reeling at the moment, the Nets are playing solid basketball right now as they are on a season-long winning streak of two games. However, it must be noted that that streak has come solely against the hapless Magic but for a team that won just a third of its games last season, any victory is significant, at least early on in the 2012-12 campaign. Still without MarShon Brooks and Gerald Wallace for tonight's game, Brooklyn is certainly handicapped a bit at the wing position. Wallace is the team's best perimeter defender and Brooks is a great scorer coming off the bench for Coach Avery Johnson.
On the other hand, Cleveland and Coach Byron Scott, former head man of the Nets during their back-to-back Finals appearances in the early 2000s, haven't really been hit hard by the injury bug and are only missing forward Tyler Zeller, who has an orbital bone fracture and a concussion. Zeller, who was drafted 17th overall in June by the Mavericks and was traded to the Cavs, is still a raw forward whom Cleveland shouldn't miss terribly, considering they are giving up the least amount of offensive rebounds to their opponent in the whole league. It'll be interesting to see the battle on the boards in this game as the Nets have the 9th-best rebounding percentage in the NBA and have the 5th-best opponents' rebounding percentage as well. 
Another interesting stat to note: the Cavs, by turnover percentage against, have forced the 2nd-most turnovers in the NBA. The Nets? They, by percentage, are 18th in turnovers committed this season. Cleveland forces turnovers at a nice clip while the Nets give them up often; that will be another key to tonight's game.
Probable Lineups
CLE- Irving (PG), Waiters (SG), Gee
 (SF), Thompson (PF), Varejao (C)
NETS- D-Will (PG), Joe Johnson (SG), Bogans (SF), Humphries (PF), Lopez (C)
Final Thoughts
Let's face it. The Cavs are young across the board and have a lot of exciting players, especially in the backcourt. But as of right now, they stink and probably will for the near future. Definitely a must-win for the Nets, also because they are home at the Barclays Center.