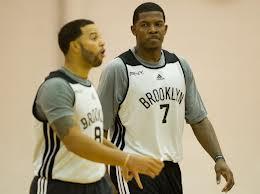 The Nets have been waiting for Joe Johnson to start playing like the Joe Johnson they traded for. Against the defensively-challenged Warriors would be a great start.
Update: Gerald Wallace (rest) will not play tonight. Keith Bogans is starting in his place. Jerry Stackhouse won't play either (rest).
When: 10:30
pm; Wednesday, November 21st, 2012
Where: Oracle Arena; Oakland, CA
TV: YES Network
The Nets try to begin a new winning streak and move above .500 on their West Coast trip tonight in Oakland against the surprising Golden State Warriors. Former YES Network Nets TV color analyst and former NBA point guard Mark Jackson is at the helm of the Warriors, who are coming off an overtime win in Dallas over the Mavericks on Monday night. Stephen Curry led Golden State in that game with 31 points, to go along with six rebounds and nine assists. Since the trade of Monta Ellis to Milwaukee last year, Curry has had to assume the point guard duties and when not injured, he has done that job well. Also in Monday night's win, David Lee went off for 17 points and 19 boards while rookie Harrison Barnes scored 20 points and grabbed 12 rebounds.
As you probably already know, the Nets played last night as they watched their five-game winning streak snapped at the hands of the Los Angeles Lakers by a score of 95-90. The defense played by Brooklyn in that loss was very good, but the normally-apt offense wasn't, as the Nets struggled to hit open perimeter shots the entire game, which eventually cost them at the end.
However, that defeat is in the past and the Nets must look forward and focus their energies on the Warriors, who have a winning record so far this season. Even with center, and centerpiece of the Ellis trade, Andrew Bogut out due to an ankle injury, Golden State is still a very scary team to play considering how explosive they can be on the offensive end and in rebounding as well.
As the Nets know too well from his Knicks days, David Lee is one of the most underrated forwards in the entire NBA as he seemingly nabs a double-double every time he goes up against the Nets. Thus, it will be doubly important for Brook Lopez to have a presence on the glass tonight to limit how many second chances and defensive boards Lee can grab for the Warriors. It is also important for the Nets to contain Stephen Curry, who is known as one of the more prolific three-point shooters in the league. Since Brooklyn's perimeter defense tends to be lacking at times, it is crucial they don't let Curry get any daylight from deep, helped out by possibly putting a bigger guard (like Joe Johnson or MarShon) on him.
Another thing of note regarding the Warriors is how important their trio of rookies are to them. Of their four picks in this June's draft, three play significant time for the Warriors. Harrison Barnes, drafted 7th overall out of North Carolina, is a small forward who is ridiculously strong and athletic and is most adept at driving to the hoop. He also has an improving jump shot, making him tough to guard. Festus Ezeli, drafted 30th overall out of Vanderbilt, is a Serge Ibaka-like player who doesn't focus as much on scoring as he does on blocking shots, rebounding, and anchoring Mark Jackson's interior defense. Finally, Draymond Green, picked with the 35th overall pick out of Michigan State, is a forward who does it all on the court and is a good passer, decent shooter, and can effectively use his big frame to get post-up position in the paint to score and box out for rebounds.
Probable Lineups

NETS- D-Will (PG), Joe Johnson (SG), Wallace (SF), Humphries (PF), Lopez (C)
GSW- Curry (PG), Thompson (SG), Barnes
(SF), Lee (PF), Ezeli (C)
Final Thoughts
Tonight's game wraps up the Nets annual West Coast
Thanksgiving
trip and ending the road trip with a 2-1 record is more than just okay, especially when the one loss is against the Lakers. Once again, they must get Joe Johnson involved on offense to both get him back in a groove and make scoring much easier, hopefully leading to a win.