One of my favorite gallery's, Gallery Loupe, will be exhibiting at the International Expositions of Sculpture Objects + Functional Art (SOFA), opening to the public this Friday, April 20th through Monday, April 23rd at the Park Avenue Armory at 68th Street in NYC.
This will be my first time attending SOFA and I am very excited. Already I see that this show will be different from any other art fair that I have been to because many of the galleries will be hosting in-booth artist talks and book signings. You can find the complete schedule of talks here.
For a lover of contemporary jewelry like myself, SOFA will be a feast for the eyes since every important gallery that sells contemporary jewelry in the US will be participating.
But back to Loupe. Patti Bleicher and Eileen David, the gallery's principles, have assembled a stellar exhibiton featuring the work of established artists like Georg Dobler, Thomas Gentile, and Klaus Burgel, with relative newcomers like Laura Deakin, Tobias Alm, and Attai Chan.
They also have a very impressive line-up of in-booth talks:
Susanne Klemm's Growth Series explores the inspiration of nature in her work. She will discuss this influence and offer a view into the development of her unconventional techniques on Friday, April 20 at 1 p.m. at a booth talk entitled "Growing." In December I wrote about Klemm's work on this blog and am looking forward to seeing her new work.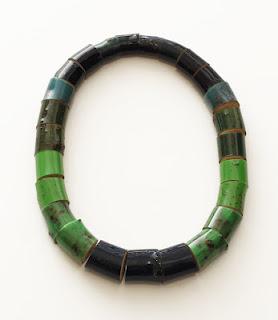 Susanne Klemm, Neckpiece. Greenwood. Epoxy, wood, 2012.
Georg Dobler will be giving a lecture "Composition of Dreams - Geometry and Nature in Jewelry" on Saturday, April 21 at 1 p.m. Presented by the Society of North American Goldsmiths (SNAG), he will discuss the disparate poles of geometric and organic forms in his work - where naturalism and abstraction meet. Following the lecture there will be a book signing at the Loupe booth.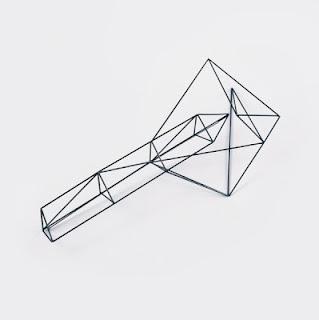 Georg Dobler, Brooch. Steel wire, black chrome, 1984.
Tobias Alm's work is bold and abstract, balancing his sensibilities as a jeweler and sculptor. He is guided by an intuition that leads to a spontaneous flow of creation.  Alm will be giving an in-booth talk entitled "Guided by Intuition" at the booth on Saturday, April 21 at 5 p.m. He will discuss his improvisational working methods and belief in their power to take him places that a linear, logical process cannot. I had the pleasure of meeting Alm during Schmuck in Munich and am sure that this charismatic young artist will give a fascinating talk.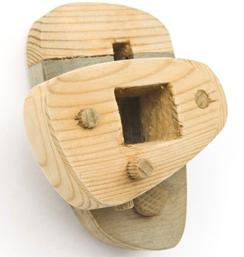 Tobias Alm, Brooch.  11th series no. 24. Wood, steel. 2011.
Sandra Enterline reinterprets the notion of preciousness through the use of diamonds, petroleum and panned gold.  A consummate metalsmith, she brings technical mastery and layers of meaning to her work.  She will discuss her fascination with light and the dynamic ways in which it inspires her.  Her in-booth talk entitled "Windows," will take place at the booth on Sunday, April 22 at 1 p.m.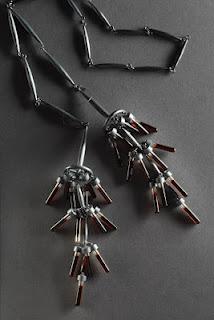 Sandra Enterline, Neckpiece. Titusville. Oxidized sterling silver,
steel,10K white gold, petroleum, glass.
Gallery Loupe
50 Church Street.
Montclair, New Jersey 07042
(973) 744-0061 or
[email protected]
.