Knife is a chef's most important tool! Without slicing and dicing fruits and vegetables, there is no easy way to cook! I've always used a steel knife until Ozeri sent me their Ceramic 3-Piece Knife Set to review along with the knife stand. I immediately noticed that these were lighter than what I'm used to. And, I'm not surprised by how sleek and modern this set looked - all Ozeri products have that stylish touch!
Since these knives are made of ceramic, I will not put them in a dishwasher, and will take extra caution while handling them. Thankfully, the handles are ergonomically designed for a better grip and has a rubberized feel to prevent from slipping. Being Ceramic will keep them from rusting, but the downside is there is a always a possibility that it might chip. I've not seen these chip yet, but this is something to keep in mind.
This set comes very nicely packaged, and will make a perfect gift! It includes 6 inch chef's knife, 5 inch slicing knife, and 3 inch paring knife. This is also perfect for both right and left handed people, because both sides of the knife are sharp. I don't think this knife set would require regular sharpening. BTW, stand is so sleek that you would want to keep this on your counter-top. It's compact and perfect for securely storing the knives. I've some pictures for you here.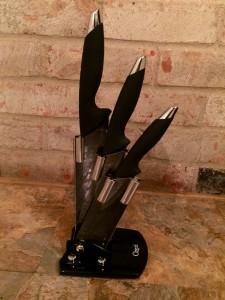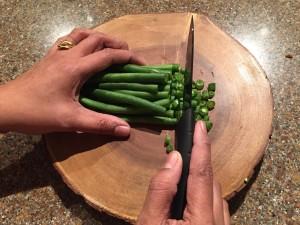 Disclaimer: This is a partnered post with the Orezi Brand . I received the Milk Frother for participating in brand activities and spreading the word. As always, all thoughts and opinions are my own.