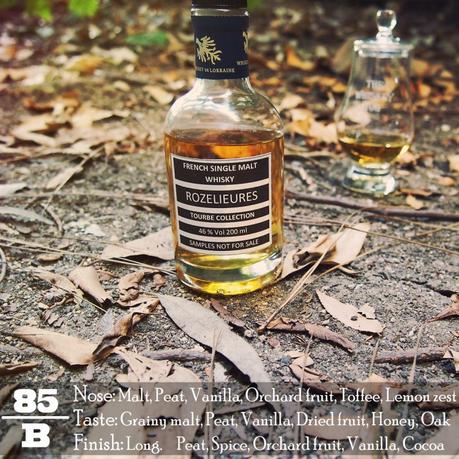 G. Rozelieures Tourbe is the latest addition to the G. Rozelieures Whisky de Lorraine single malt lineup and is the most heavily peated of the bunch. They're all peated, but the rest of the collections like the Rare, Origine and even the Fume are peated to a noticeably lesser degree. This additional peat isn't the only difference though.
All of the other collections are aged in sherry casks at some point in their maturation process, but the G. Rozelieures Tourbe never touches the stuff. Instead it's aged in ex-Bourbon casks and finished in new French Oak casks made from trees harvested in Lorraine where the whisky is made. It's also aged the longest of all the whiskies in the G. Rozelieures lineup – and it shows.
G. Rozelieures Tourbe Info
Region: Lorraine, France
Distiller: G. Rozelieures
Mashbill: 100% Malted Barley
Cask: ex-Bourbon & new French Oak
Age: 8 years
ABV: 46%
Peat: 30ppm
Price: $90
G. Rozelieures Tourbe Review
EYE
Light copper
NOSE
Crisp malt, peat, vanilla, orchard fruit and toffee saunter out of the glass followed by notes of lemon zest and buttercream frosting with a touch of spice and honey. This… this is pretty decent stuff.
PALATE
Grainy malt and peat buddy up with some notes of vanilla, dried fruit and honey. Some slivers of oak, char, cocoa, spice, and orchard fruit dance through lightly. Not a hard hitting peated malt, but really quite decent.
FINISH
Long slow finish of peat, spice, orchard fruit, vanilla and cocoa.
BALANCE, BODY & FEEL
Almost balanced, medium body and a warm syrupy feel.
OVERALL
G. Rozelieures Tourbe is pretty good stuff. I like that they bottled it at 46%, I like that there aren't any spirity notes popping in and I like the peat level. I think it plays well with the sweet honied fruit notes in the whisky and the earthier oak notes that are more prevalent in this whisky than the others. I think a few more years in wood could help this one really shine, but even at it's current state it's a tasty whisky I can easily see myself pouring a glass of from time to time.
This review of the G. Rozelieures Tourbe completes the currently available line up. To see how the others stacked up check out the G. Rozelieures Origine Review, the G. Rozelieures Rare Review and the G. Rozelieures Fume Review. Though for an entirely different perspective on these whiskies check out Sku's write up, it's definitely worth a read.
SCORE: 85/100 (B)
*Disclosure: This G. Rozelieures Tourbe was graciously sent to me by the company for the purposes of this review. The views, opinions, and tasting notes are 100% my own.