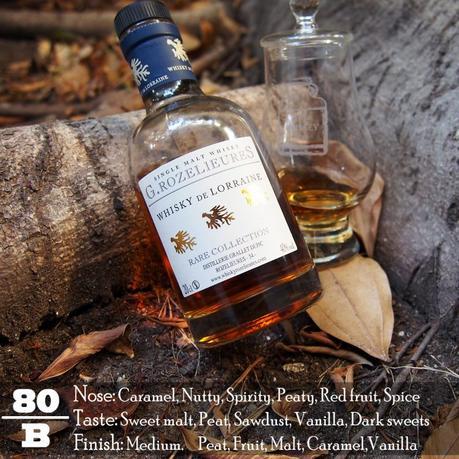 G. Rozelieures Rare is lightly peated like all their other whiskies. It's also aged in sherry casks like almost all the others and is additionally aged in cognac casks like the Origine. What makes it rare is the additional time spent finishing in ex-Sauturnes casks. This additional aging in a third type of grape-based-booze cask also brings with it an extra $10 on the price tag, which actually makes sense.
In the Origine review we discovered that everything in the G. Rozelieures Whisky de Lorraine lineup is farm to bottle and adding $10 to cover the costs of securing the Sauternes barrels and the extra year of aging seems fair to me. The extra aging made a bit of a difference in the end product, but like its younger 2-cask brother the G. Rozelieures Rare could definitely benefit from a bit more aging and a higher proof.
G. Rozelieures Rare Info
Region: Lorraine, France
Distiller: G. Rozelieures
Mashbill: 100% Malted Barley
Cask: ex-Sherry, ex-Cognac & ex-Sauternes
Age: 5 years
ABV: 40%
Price: $60
G. Rozelieures Rare Review
EYE
Coppery amber
NOSE
Caramel, nutty, touch spirity and peaty. Notes of red fruit, spice, vanilla, caramel, citrus peels and ash work around in the glass but don't make a solid impression. It's not a bad aroma, a tad on the weird side, but something I'm not hating.
PALATE
Sweetly malty and peaty with a bit of that "craft whisky sawdust" character. Some vanilla-like spirity nature and some dark sweets mix with lighter layers of dried fruit, honey, graham, toffee, nuts and ash which come out as you work it around.
FINISH
Medium dissolve of peat, fruit, malt, caramel and a vanilla heavy spirity nature that arrives right before it disappears.
BALANCE, BODY & FEEL
Not fully balanced, medium body and a soft watery feel.
OVERALL
G. Rozelieures Rare is light and unassuming which is weird to say about a peated whisky that's been aged in ex-Sherry, ex-Cognac and ex-Sauternes casks for at least 5 years. I would expect a bit more richness out of it, but I'm guessing that's because it's bottled at 40% and thus likely to be chill-filtered. This is probably why the spirity nature is coming out so much as well.
We all know that young peated whisky from Islay can be awesome, but the vast majority of those releases come out at cask strength and for a good reason; you need all of the oils and character you can get when it's young stuff. This whisky isn't terrible, but it needs to be matured a bit longer or at the very least be released at 46% and non-chill filtered; that would help a lot. Regardless of my criticisms it's still worth a taste and even Sku agrees with that.
SCORE: 80/100 (B-)
*Disclosure: This G. Rozelieures Rare was graciously sent to me by the company for the purposes of this review. The views, opinions, and tasting notes are 100% my own.