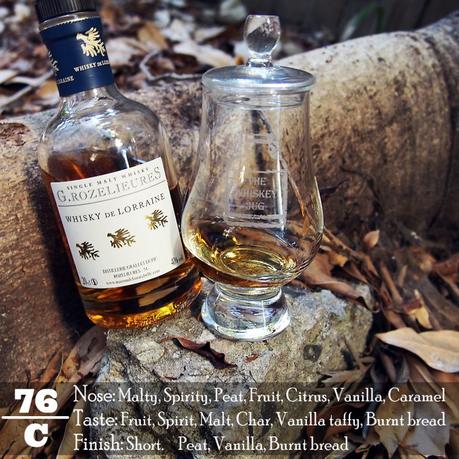 G. Rozelieures Origine is aged in both Sherry casks and Cognac casks and, like the rest of the G. Rozelieures Whisky de Lorraine line-up, contains at least a little peat. Also like all of their other whiskies the barley isn't sourced, but grown by the family on their farm. This is a true farm to bottle family operation right here and what they're doing and achieving is quite admirable.
It's not necessarily the most amazing whisky on the planet, as you'll see below, but there is something endearing and fantastic about a company that goes through the time and effort to plant the barley, grow it, harvest it, malt it, mash it, ferment it, distill it, cask it, age it and bottle it all themselves. When a small producer goes through that entire process themselves I never mind a bit of a premium on a bottle. Though before we get into that lets see how it smells and tastes. On to the G. Rozelieures Origine review!
G. Rozelieures Origine Info
Region: Lorraine, France
Distiller: G. Rozelieures
Mashbill: 100% Malted Barley
Cask: ex-Sherry & ex-Cognac
Age: 4 years
ABV: 40%
Price: $50
G. Rozelieures Origine Review
EYE
Amber
NOSE
Grainy malt and quite spirity with top-line notes of peat, over-ripe fruit, citrus and vanilla. Lower notes of caramel, alkaline minerality, baking flour and ashy burnt bread emerge after a while. It sounds worse than it is, but still not my favorite aroma.
PALATE
Weak fruit, spirit, grainy malt and smoke roll out in a loosely cobbled manner with lighter notes of smoky char, vanilla taffy, dried citrus and burnt bread. After letting it sit for an hour or so hints of cocoa and a piny spice showed up. Again, not utterly horrible, but still no where close to my favorite.
FINISH
Short finale of peat, vanilla and burnt bread.
BALANCE, BODY & FEEL
Unbalanced, thin body and a watery feel.
OVERALL
G. Rozelieures Origine is… ok. I struggled with giving it a 76 or a 77 because on one hand I don't hate it, but on the other I don't really care for it and so I landed on what I'll call a "high 76" which you can think of like a 76.99 if you like. The young spirity nature comes through quite noticeably as does a note of burnt bread. It's weird, but not in the way I typically like.
Like all the others in the G. Rozelieures collection, except the to-be-reviewed Tourbe, the G. Rozelieures Origine could do with a higher proof and being non-chill filtered. I honestly think this would be noticeably better if it were released at no less than 50% ABV and NCF. Leaving the oils would help cover up some of the spirity nature and give it some much needed richness.
SCORE: 76/100 (C)
*Disclosure: This G. Rozelieures Origine was graciously sent to me by the company for the purposes of this review. The views, opinions, and tasting notes are 100% my own.