Giving it some Stich
No one has or had a nicer service action than Michael Stich. He was the Fred Couples of tennis and it was that serve that took him to a Wimbledon crown in 1991.
He came close a couple more times to a Grand Slam title, only to be denied by an unseeded Andre Agassi at the US Open in 1994 and again at the 1996 French Open, against an inspired Yevgeny Kafelnikov. He reached a career high number 2 in the world during his peak years of 1991-1994.
Glory Years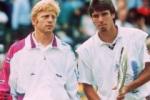 The German Bombers
While he lacked a few more Grand Slam titles, he certainly made up for it in the other big events. He won the Grand Slam Cup in 1992, Olympic Gold doubles with Boris Becker in 1992, the Year-End Championship in 1993 and team competition titles in Davis Cup and the Hopman Cup both in 1993.
For Germany, Stich has come through in his playing career and retirement. Even when his rivalry with German golden-boy Boris Becker got a little heated, they came together for the Olympics. Stich's win over Becker in the 1991 Wimbledon final put him on Becker's shitlist. Becker himself considers this loss the hardest of his career, but that day he could not find an answer for Stich's laser like serve and volley game.
He also famously partnered with Johnny Mac at Wimbledon in 1992, winning the title in dramatic fashion, 19-17 in the 5th against Grabb and Reneberg.
Playing Style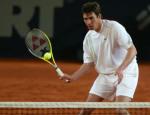 Old School Volleying
Stich's old school game worked not only on grass but on all surfaces including clay it was that good. He had all the shots if a little shaky on the forehand, he compensated with a sweetly hit single handed backhand and good movement for a 6'4″ guy.
It's a type of play sorely missed in today's game, but at the time, he was part of an era criticized for being boring. The likes of Sampras, Ivanisevic and Krajicek made for short tennis on faster courts than we see today, except perhaps Paris indoors. Incidentally, Stich held a 6-5 winning record over Sampras.
In his win against Edberg at Wimbleon in 1991, he actually lost more games but won the match in the following 3 tiebreak sets. It was a serving master class.
In Retirement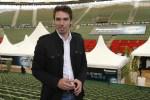 Running the Hamburg Tournament
In retirement, he's been pretty successful too. As tournament director of the Hamburg event, he's been reviving it's status and running it as smoothly as his service action. He is intelligent, articulate and funny. So much so, the BBC hire his talents during Wimbledon and it's always worth hearing what he has to say.
Not shy also, he has strong opinions on the game and players and has gotten some Stich for criticizing Serena Williams and more recently the threatened players strike over the length of the season. He made the good point that players used to player more doubles as well and not with a 3rd set shoot out too.
Someday I could see him running the ATP, but perhaps his no-holding back approach would be too risky for the PR department. Either way, he would be light years ahead of some of the jokers that been picked in the last few years to run the tour.
A fine German and tennis player, Michael Stich, step right up and take your place at the Hall of Fame table.
The Numbers
Highest Ranking: 2 (1993)
Career Titles: 18
Grand Slam Wins: 1 (Wimbledon 1991)
Masters 1000 Wins: 2 (Hamburg 1993, Stockholm 1993)
Win/Loss Record: 385/176
Career Prize Money: $12,592,483
Records: One of the few players to have a positive head-to-head record against Sampras, 6-4.
Watch: Stich vs. Becker Wimbledon 1991
Watch: Michael on German Tennis
Watch: Michael on running the Hamburg Tournament