I had never heard of Furzey Gardens in Hampshire until this year's 2012 Chelsea Flower Show, where they won a Gold Medal for their Garden, designed by Chris Beardshaw.
The Minstead Training Project is a sister charity to Furzey Gardens.  It provides residential care and horticultural training to young people with learning difficulties.   It is these young people who  help tend the garden and were involved with Chris Beardshaw in making the award winning Chelsea Garden.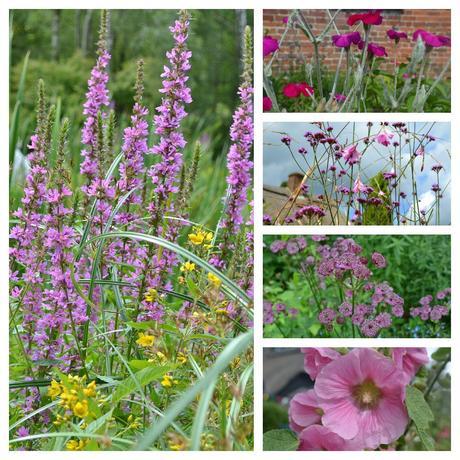 When you visit The Furzey Gardens Charitable Trust you will find 8 acres of woodland walks, full of  interesting  plants  and trees.   It is clearly a garden that delights no matter what time of the year you visit.   The garden has a great display of all year round colour, with rhododendrons in February and March, a mass of spring flowers, the azaleas in May and the  many trees and shrubs  in the autumn.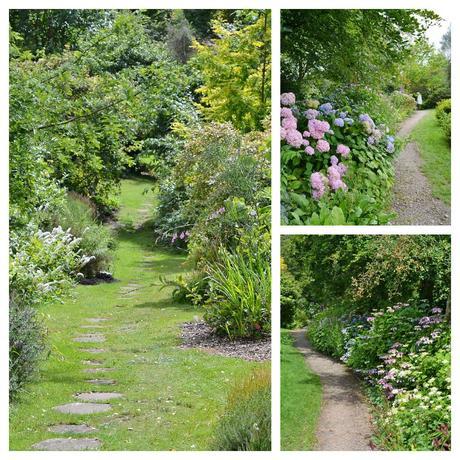 My visit was in the last week of July and like every garden in the UK, due to the wet summer, it was lush with foliage.   Furzey Garden is on a hillside and the ground was a bit wet and boggy in places along the paths, so we had to be careful where we walked.
It was clearly a popular spot for families and although there were signs asking parents to keep children with them at all times, it was very noisy with young children running around the garden and calling each other, which I found slightly annoying.   Don't get me wrong, I have nothing against children in gardens but to me it did detract from what is a gentle place in a peaceful setting.
All around the grounds are 30 little fairy doors to find and explore and there are also tree houses and wooden walkways for children and a crawl tunnel, swings and an old boat all added to the childrens' playground sounds.     Their mothers seemed quite content to sunbathe on the patio outside the cafe, whilst their children shrieked and played.
However, from a child's point of view I could well see the fun they were having chasing and hiding among the shrubs and trees.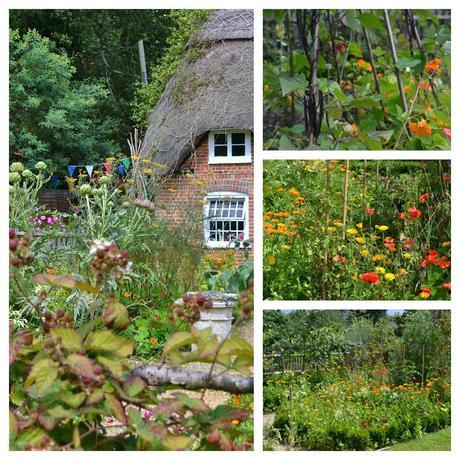 At the top of the hill,  by the entrance is a 16th Century Cobb Cottage which is believed to have been built in 1560.   Here you can find the well-tended vegetable garden also crammed full of flowers.  This was typical of an "olde worlde" style cottage garden and something that I would like to try and develop in my own garden.  I love the idea of dahlias and hollyhock growing alongside beans and carrots.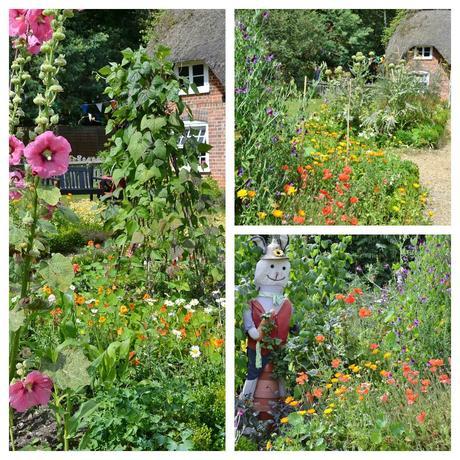 I have a learning disabled brother, now nearly 60, who loves gardening, and I felt a sense of sadness that nothing like this was available when he was young.    As I walked around I thought how much  he would have loved it here and how important places like this are to help develop self-respect and independence along with giving young learning disabled men and women  the opportunity to learn new skills.
Related links:
http://www.furzey-gardens.org/index.php
http://www.minsteadtrainingproject.org/
http://www.rhs.org.uk/Shows-Events/RHS-Chelsea-Flower-Show/2012/Gardens/Garden-directory/Furzey-Gardens
http://www.chrisbeardshaw.com/index.php/chelsea-flower-show-2012-furzey-gardens