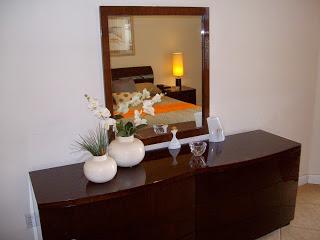 Bedroom furniture imparts a feeling of warmth, completeness and comfort to the room. The main items of bedroom furniture include a bed frame, mattress, dresser, nightstand and vanity.  
Bed Frame – This is the primary furniture piece in a bedroom and takes up most of the available space. In modern times, beds are made in several sizes including twin, king, queen, full and the California king. Bed frames also come in a variety of styles. Some are made with headboards while others have footboards included. Bed frames can be entirely made of either wood or steel or they can have parts made using both materials. Companies dealing with furniture made to order in Reading also produce bespoke bed frames. 
Mattress – A quality mattress is an important part of keeping oneself healthy and well-rested. Due to the availability of different kinds of mattresses in the market, it can be quite confusing to choose the right type, which suits your needs the best. At the time of purchasing a mattress, all you need to consider are things like size of the mattress, materials that have been used for its construction, the quality of support it provides and its firmness.
Dresser – It is often placed on the side of the bed and is considered as the second most essential furniture piece in a bedroom. This piece of furniture is used to store clothes and other items of personal use. Dressers are produced in several designs, with three, six or even nine drawer alternatives.

Vanity – Vanities are used for the purposes of personal care and grooming. They generally have drawers and space underneath to place a stool and a mirror which is attached to the top of the table. It is most commonly used by women.
Nightstand – Placing a nightstand next to the bed allows users to keep an alarm clock, lamp and bedtime reading stuffs. The furniture can be with or without storage spaces like drawers or shelves.
Purchasing any of these furniture items for the bedroom may sometimes appear like an appalling task, but with a little bit of pre-planning and calculation, you can easily consolidate the furniture which will best suit your space. 
Before buying a bedroom furniture, it is essential to consider a few important aspects such as the amount of space available, your choices and so on. You also need to consider the colour, theme and décor of your bedroom when purchasing bedroom furniture. This aids in creating a comfortable, cozy and comprehensive living space out of your bedroom.