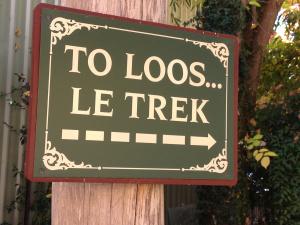 Sign pointing to the toilets at McCrossin's Mill Museum, Uralla, Australia
When traveling it can be the quirky little things that give an insight into the character of a place – like unusual toilet signs.
To Loos Le Trek is a case in point, a hint that McCrossin's Mill Museum in the small town of Uralla, Australia, doesn't take itself too seriously. (A play on Toulouse Lautrec for any of you who are still scratching your head.)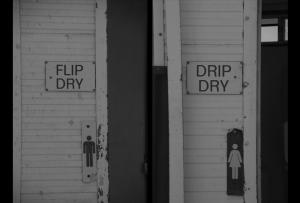 Toilet signs in outback New South Wales
In fact some toilet signs can be downright hilarious, like the Flip Dry and Drip Dry ones I came across at some showgrounds in outback New South Wales.
There are some equally funny dunny signs in the little book titled Bathroom Signs, authored by I.P. Daily (I kid you not).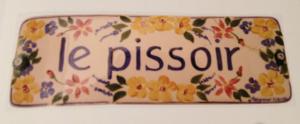 Sign for a French urinal from the book Bathroom Signs by I.P. Daily
When traveling in France I used to think a colleague was taking the piss out of me, so to speak, when he said he was going to the 'pissoir', but there is a picture in the book of a pretty tiled sign reading le pissoir. Apparently they are public urinals erected (pardon the phrase) to combat street urination.
One of my fears when traveling in a non-English speaking country is making a faux pas by going into the wrong toilet. (This comes after the more debilitating fear of not finding a toilet fast enough when I feel earthquake style rumbles overtaking my gut.) And it's not just a matter of learning the simple translation for 'men' and 'women'.
Think about it; in English we have Ladies & Gents (or Gentlemen) Women & Men, Male & Female, His & Hers, Boys & Girls, and in Australia Sheilas & Blokes. So you can see how confusing it might be for non-English speaking visitors to Australia. (Thanks to fellow travel writer John Maddocks for the picture below.)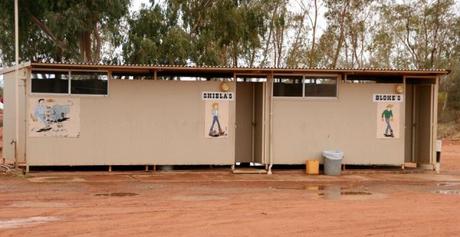 Sheilas and Blokes photo courtesy of John Maddocks
That's why I like toilet signs with images, but sometimes even those can be a little confusing, as I found recently at a resort in Thailand (and I wasn't the only one).
While the words Buoys and Gulls might not appear in an English travel phrase book, and these pictures are not much help (unless you are into phallic symbolism) at least the colours of the signs hint at which is which.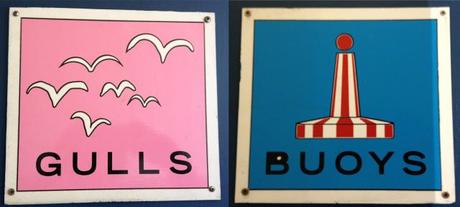 Toilet signs at Quays Marina, Pittwater
But the matching Bitches and Mutts signs in the Dingo Bar at the Kingfisher Bay Resort on Fraser Island, Queensland, don't give much away if you don't understand the terminology (a reference to the wild dogs or dingoes found on Fraser Island).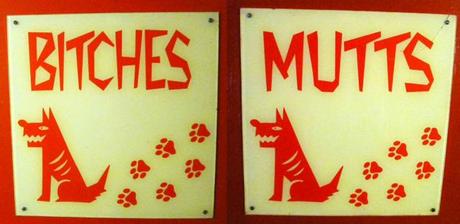 Signs in the Dingo Bar at the Kingfisher Bay Resort, Fraser Island, Australia. Photos courtesy Jodi Clark
Even when there are very clear images, you can still get caught out by a bit of gratuitous graffiti, like that found at this toilet in Gympie, as captured by friend Jodi Clark.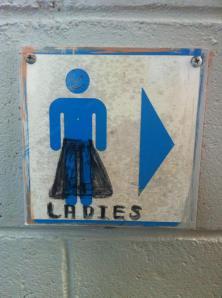 Toilet sign in Gympie Photo courtesy Jodi Clark
Toilets seem to inspire poets too, who try to win our cooperation with witty ditties.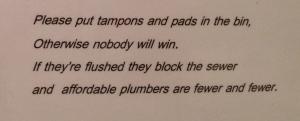 Toilet poetry in the Bowling Club on Dangar Island
Then there are toilet signs that are artworks in their own right, like these beautiful examples at the Quarantine Station wharf, Sydney, which show quite clearly which loo is which.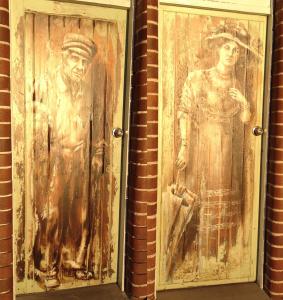 Toilet doors at Quarantine Station wharf, Sydney
Do you have any funny toilet images to share? I'd love to see them.