A recent Tumblr site is causing quite a stir.  Selfies at Funerals, compiled by Fast Company senior editor Jason Feifer (@heyfeifer) is a collection of selfies* taken at funerals mostly by teens culled from across the social media sites like Instagram, Facebook and Twitter.  Selfies have become a cultural phenomenon, especially for teens and young adults so it's not surprising that experimentation of documenting experiences pushes social boundaries.  Recently, we've seen selfies morph across memes, such as the Duck Face, Sparrow, Ugly Selfie, Hot Dog legs and, recently, 'Selfies Taken at Serious Places,' also curated by Feifer, with selfies taken at Pearl Harbor, Auschwitz or the 9/11 Memorial.  None of these got the attention achieved by 'funeral selfies.' This has moved rapidly across online and offline media channels and reaction run the gamut from support to denunciation of the selfie-takers.  The sentiment is skewed, however, toward the negative end of the spectrum.  It doesn't take much to get people ranting about the narcissism, need for instant gratification and other shortcomings of the Instagram generation and 'funeral selfies' were more than enough tinder for the fire.
Demonizing technology and pathologizing an entire generation are cheap answers.  They make good headlines but don't require any insight or empathy.
New perspectives on technology
Kids today have a different view of technology, communication, sharing and privacy.   A smartphone with a flip lens makes taking and posting an image free and immediate.  The desire to document our lives is not a new thing.  What's new is the fluidity between text and image that new technology has enabled that is redefining normal communication.  Visual communication is more information-rich than a text.  An image conveys emotion and context not apparent in a text message but both take about the same amount of time to send.  It also allows the receiver to 'see' what the sender is seeing.   As a society we promote sentiments about appreciating the process of life, but we're pretty judgmental when they do in their own way.  If you are used to documenting all kind of things, from random moments to meaningful experiences, a funeral is a pretty significant event and a selfie may seem like a good idea.
Everyone grieves differently 
Like it or not like it, there is no right way of grieving at any age.  As a culture, we don't do a very good job of dealing with death, yet anxiety and denial about death and mortality are common.
Pushing the limits of social norms
The adolescent years are fraught with the emotion and discomfort of trying to navigate the confluence of pressures—social, academic, familial, and economic—as kids try to figure out who they are.  This isn't a New Age thing.  Having a sense of self independent of the nuclear family is what gives young people the courage to strike out on their own.  It isn't about self-focus, it's about internalizing motivation and purpose so they can get something useful done.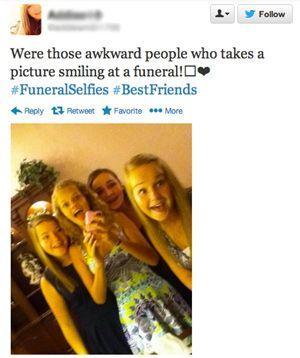 A common way young people explore the boundaries of self and other and experiment with independence is to confront and ignore social norms and rules.  It's more likely a social experiment aimed at identify exploration, than a lifestyle commitment.  Sometimes, the very fact that it irritates adults becomes part of the attraction.  Often, the violation of social norms causes society at large to reevaluate the standards to in the face of broader social changes.  (Remember when Elvis' hips and the Beatles' long hair signaled a lost generation?)
Coping mechanisms
Coping strategies help us get through difficult time.  Humor and irreverence can be ways to violate social boundaries and they also can be coping strategies that reduce the intensity of a situation and construct a barrier or cushion between a person and his or her feelings.  They channel uncomfortable thoughts, anxieties and emotions into a joke or inappropriate response.
Funerals are uncomfortable, emotional or anxiety-provoking places for most of us because we are faced with grief and mortality.  The emotions and pressures are compounded if a funeral is one of the few times that an extended family gets together. Depending on your family dynamics, a family reunion can have its own set of pressures on top of the grief.
Social Support
Social support is helpful when someone is dealing with both chronic and acute stress.  For kids who have migrated to using Facebook, Twitter or Instagram as a normal means of contacting friends, posting a funeral selfie can be a way of getting that support and empathy.  See the response from a friend circled in red: "Hope you're okay, love you."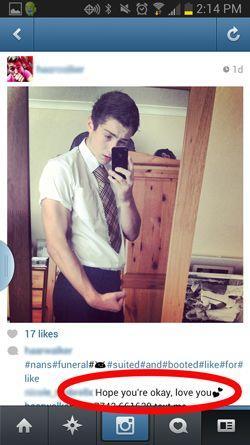 Social networks are very public, as the Tumblr site shows, but they can also feel very intimate to the sender. Teens often don't consider the implications of network science and information flows when expressing themselves. This isn't a product of technology. Teens frequently don't consider the ramifications of behavior.
Cognitive Maturation
Evidence from neuroscience may help explain why some behaviors, such as lack of judgment or about negative consequences, difficulty controlling emotions or behaving impulsively, are common among adolescents.  The human brain matures unevenly.  Motor control and emotions reach maturity ahead of the prefrontal cortex, the part of the brain that controls reasoning and impulses. It does not mature until about the age of 25.  What seems like a good idea if you're 18, probably doesn't if you're 30.
Teens are big but they are also little. They look like adults but their behavior didn't always match.  Sometimes they act their age. Sometimes you are floored by wisdom and responsibility beyond their years. Sometimes they regress to a time when life was simpler and people weren't asking hard questions.
Parents: Turn Weird Stuff into Great Teaching Moments
With social media, all this stuff is out there to see, for better or worse.  Parents can use things like funeral selfies as conversation starters and what educators call 'teaching moments.'  These opportunities require respect on both sides of the table—listening rather than lecturing or snorting, they also offer a chance to have meaningful conversations that benefit both—increasing understanding for the parents and encouraging a growth in maturity for the teens.  It may not have occurred to a teen that a selfie would hurt the feelings of someone else.  It may not have occurred to you that the teen found the funeral very painful and didn't know how to cope.  Honest exchanges establish trust that opens the door to other more important conversations.
——
*Selfies are DIY (do-it-yourself) self-portraits, although using the term portrait here is over stating the weight and meaning. They are on the fly, visual documentation of daily life, posed but not precious, that are posted on social media sites or sent via text messaging.  They are most popular with teens and young adults.  For a longer discussion, see my previous post: Making Sense of Selfies.