Summertime offers several opportunities for get-togethers and cookouts.  I could argue successfully that the best get-togethers and cookouts are hosted by those of us in the restaurant business.  Pitch-in dishes are brought not just to contribute, but are a presentation of our own cooking skills in the attempt to earn bragging rights. In addition, we all get the chance to learn something new, whether it's a cocktail recipe, a cooking technique, or an odd yet tasty combination of flavors.
Here are some fun recipes to share at your next summer cookout:
Bul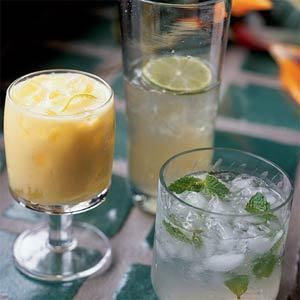 Pronounced Bool, this popular Cuban drink is a tasty twist to the classic beer-mosa.  It is commonly made with a light-colored beer like a lager, or pilsner.
1/3 cup fresh lime juice
1 (12oz) bottle beer, chilled
1 (12oz) bottle ginger ale, chilled
lime slices (optional)
Combine first 3 ingredients in a pitcher then serve over ice.  Garnish with fresh lime slices, if desired.  (Serves 4)
Spicy Rum Punch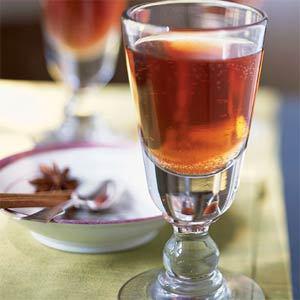 This recipe requires a little extra work, but the results are well worth it.  Make it (without the rum and ginger beer) the night before so it has plenty of time to cool over night.
1/4 cup chopped crystallized ginger
2 tablespoons black peppercorns
6 star anise
4 (3-inch) cinnamon sticks
2 (64 oz) bottles of cranberry-pineapple juice
2 cups dark rum
4 (12 oz) bottles ginger beer
1. Combine first 5 ingredients in a large Dutch oven; bring to a boil.  Remove from heat; let stand 30 minutes.
2. Strain cranberry mixture through a fine sieve into a bowl; discard solids.  Chill thoroughly.
3. Just before serving stir in rum and ginger beer, serve over ice.  (Serves about 20)
Lemon-Macerated Okra and Olives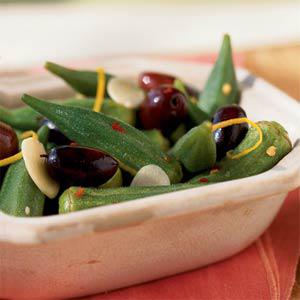 This refreshing snack needs at least 2-3 days to marinate, so make sure you plan accordingly.  You can serve it on it's own, or combine it with some cheeses and meats as an antipasto platter.
3 cups small okra pods
1/2 cup kalamata olives
1 tablespoon grated lemon rind
1/4 cup fresh lemon juice
2 tablespoons evoo
1/2 teaspoon kosher salt
1/2 teaspoon crushed red pepper
2 garlic cloves, thinly sliced
2 bay leaves
                                                                                 2 thyme sprigs
Combine all ingredients in a large zip-top plastic bag, and seal.  Marinate in refrigerator 48 to 72 hours, turning bag occasionally.  Strain okra mixture through a sieve over a bowl; discard marinade, bay leaves, and thyme sprigs. (Serves about 14)
Three-Fruit Salsa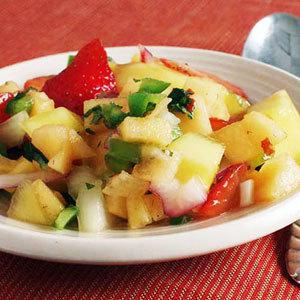 It seems like an odd combination, but you'll soon find yourself doing everything you can to not eat the whole bowl. The tropical ingredients and Thai flavorings blend to create a unique salsa.
1 cup finely chopped peeled cantaloupe
1 cup finely chopped peeled mango
1 cup sliced small strawberries
1/2 cup finely chopped seeded peeled cucumber
1/2 cup finely chopped green bell pepper
1/2 cup finely chopped red onion
2 tablespoons finely chopped seeded jalapeno pepper
1 1/2 tablespoons chopped fresh mint
                                                                                  1 tablespoon chopped fresh basil
                                                                                  2 tablespoons fresh lime juice
                                                                                  1 tablespoon honey
                                                                                 1/4 teaspoon salt
Combine all ingredients in a bowl.  Serve salsa with a slotted spoon and some chips.  You can also use this as a condiment for fish or pork.