Going on holiday with the kids isn't always easy, especially when you have young ones. A lot of us stick close to home because we fear a longer journey or feel we can't afford to travel further. But the excellent thing about living in the UK is that the rest of Europe is so accessible, and a lot of it is no more expensive (and sometimes cheaper!) than a holiday at home. If you're worried about surviving in a foreign country with your children, the best thing to do is to look for somewhere family-friendly. Plenty of cities have lots for kids to do, with people who are welcoming towards children. If you're looking for somewhere in Europe to take your children, try these cities that can't wait to welcome families with open arms.
Amsterdam
Amsterdam is an easy city to get around, which makes it perfect when you don't want to have the kids stuck in the car or pushchair all the time. The city is set up for cycling, so a family bike ride is a fun thing to do to explore the city. Another great way to see Amsterdam is on a canal cruise, which kids will love. For budding scientists who like to get stuck in at museums, there's the NEMO Science Museum, which has fun, interactive exhibits. There's also other museums that older kids might enjoy, such as the Anne Frank and Van Gogh museums.
Barcelona
A lot of families gravitate to the Costa del Sol or other sunny, beach-laden parts of Spain in the summer. But if your family would rather be doing things instead of lounging on the beach, Barcelona is an excellent place to go. You might think of Barcelona as somewhere more suited to adults, but there's plenty for the kids to do too. Choose your base on HouseTrip.com and from your family-friendly flat you can experience the Catalan flavor of the city. Everyone will enjoy the eccentric architecture of the city. But when you get tired of walking around, take a trip to the Chocolate Museum, visit the aquarium or sit down to encourage the kids to sample some traditional food.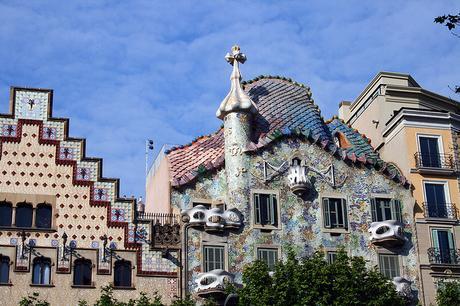 Bert Kaufmann
Paris
Paris is a must for families, whether you visit Disneyland or stay in the city. You can get there by train, car or coach (ferry or Channel Tunnel) or plane, so there are plenty of options for different price ranges. Apart from the obvious fun at Disneyland, which you could attempt to cover in one day if you want, there's lots more to do in the city. Kids of any age are sure to enjoy eating crepes, galettes and waffles. When you're not eating, there are gardens with fun activities to explore, and famous sights that even the children will be excited to see. Tire them out by climbing to the top of the Eiffel Tower!
There's a lot more of Europe to explore as a family, from Rome to Stockholm. Don't be afraid of taking a longer journey to reach new sites.
Follow me: 

BlogLovin'

 // 

Twitter

 // 

Facebook

 // 

Google+

 // 

Pinterest

 // Instagram