Happy Thursday, friends! Unfortunately, I don't have anything too exciting to report. I've been in a bit of a rut lately and haven't kept up with my usual clean eating/fitness routine, so I really gotta get my butt into gear. So now, all I can think of is food.  Which brings me to today's post…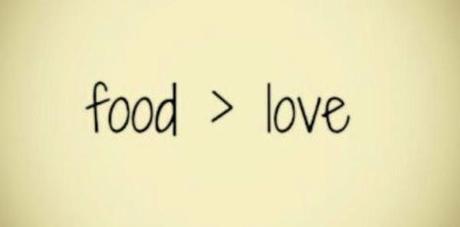 Source
I've had this foodie quiz sitting in my draft folder for awhile now. And since my life is so boring and I won't be able to type up a good post, this is what you get today! :P
Breakfast
1. Favorite cereal as a child?
I've got to give it to Cinnamon Toast Crunch.  Whenever my mom would bring that home from the supermarket, my brother and I basically had a race to see who could finish off the box first.  He wasn't too picky about sugar-laden cereal though…he'd eat Capt'n Crunch, Fruity Pebbles etc. Me? All about the Cinnamon Toast Crunch!
2. Coffee or tea? With or without milk?
I didn't actually drink coffee or tea until after I graduated college and started my first job.  I was so nervous the night before my first day, I barely slept. By the time I got to work, I could barely keep my eyes open so I forced myself to get a small coffee at Dunkin Donuts.  I've been drinking it ever since. I used to add skim milk and splenda, but once I learned how I was basically drinking the equivalent to chemicals, I drink it black now.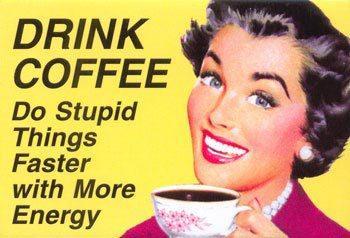 Source
3. The one food you eat most often at breakfast?
It's probably a tie between oatmeal and eggs. Sometimes mixed together! I used to make a little oatmeal and then stir in 6 egg whites, then add some cinnamon and/or vanilla extract. Sounds weird, but the great thing about egg whites are they're so versatile! They'll take on the flavor of anything you add to them.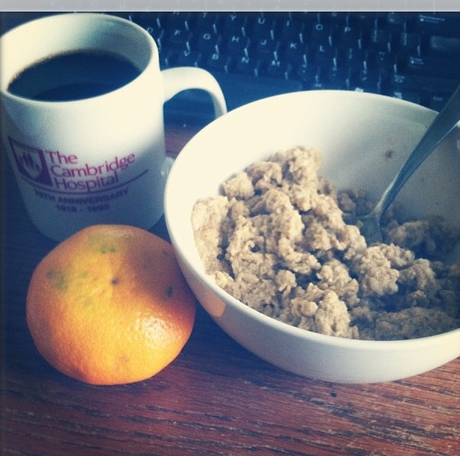 ***
Lunch
1. Sandwiches are generally considered a "lunch food." If you had to choose between a grilled cheese and a peanut butter and jelly, which would you pick?
Oh man – it's like Sophie's Choice! Growing up, I ate a peanut butter & jelly sandwich for lunch almost religiously. But, man do I love cheese. Sigh…I think I gotta give the edge to grilled cheese.
2. You can only put four ingredients in your salad (not including greens); what do you throw in the mix? Additionally, which greens and dressing do you pick?
I am happy making my salad one of two ways – 1) just toss a TON of different veggies together, splash it with some lemon juice and chow down. But if I'm doing an "average" salad, I usually make it with baby spinach greens, some chopped up peppers, tomatoes and onions, and MEAT.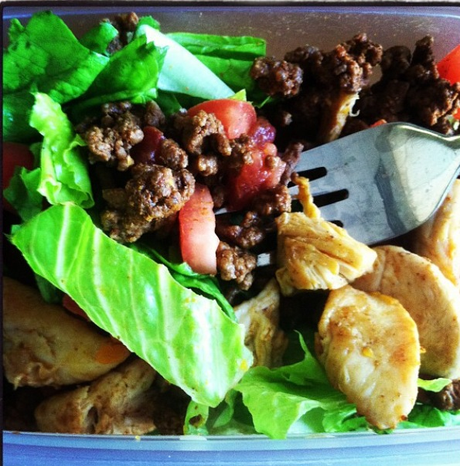 3. One food you can't live without at lunch?
Some type of protein.
***
Dinner
1. It's the end of the day. You're tired, hungry, and your fridge is empty. If a fast food (from a chain) is your only option, where do you go and what do you order?
Either something from Boloco (I love making salad bowls there) or Subway. Though I've been trying to shy away from Subway after I learned that they put chemicals in their breads (but at this point, who doesn't?)
2. TV/computer on or off while you're eating?
I wish I ate at my kitchen table more. Honestly, I think I have maybe once or twice in the past 2 months. Most of the time
***
Dessert
1. Choose between these two American desserts: cheesecake or apple pie?
No competition – cheesecake!
2. Choose between these two foreign desserts: tiramisu (Italy) or flan (Spain)?
I've only had tiramisu and I'm not a huge fan of it. Can I just have cake instead?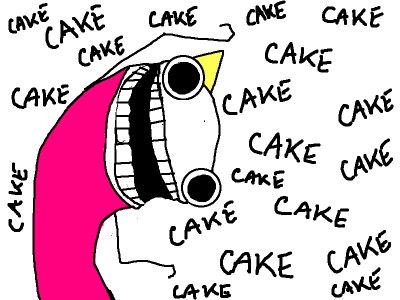 Source
3. Ice cream: cone or cup?
It really just depends on the mood I'm in. I think more times than not though I'll probably go for the cone.
Your turn!
If you had to choose between a grilled cheese and a peanut butter and jelly, which would you pick?