Stopping power is important. It's the thing that allows you to safely slow down for a sharp corner and stops you flying off the trail at break-neck speeds. Despite the fact that they all should work the same, they are priced very differently and perform even more so!
When it comes to bike components, Shimano are one of the leading manufacturers and have been for years. What makes them so successful is that they still make parts for your average mountain biker, pricing them fairly without damaging build quality.I managed to grab myself a set of the Deore M615s in the Chain Reaction Cycles components sale for under £80 – a price that you simply cannot argue with.
Shimano Deore Disc Brakes
Straight out of the box I was impressed with these brakes. Everything put together, bled and looking lovely. I chose the option to have olives included in case the hoses were too long and needed to be cut down, but this didn't turn out to be a problem in the end.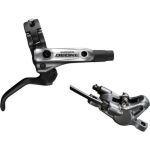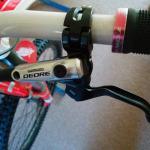 Fitting these was probably one of the easiest jobs I've ever had to do, mainly thanks to the fact that they come pre-bled. You simply replace the old with the new and you are good to go! I've had a toy around with lots of brake systems over the years, from the good old V-brakes of old to mechanical and hydraulic discs, and Shimano always impress me.
First Impressions
My previous brakes were the budget friendly Tektro Draco which I wouldn't recommend to anyone. They constantly felt like they needed bleeding, even directly after bleeding, and any time you try to unscrew a bolt it either sheers off or rounds out – absolutely useless. So needless to say when the Deores were first fitted and I could pull the levers and come to a VERY fast stop I was impressed. I've taken the pads out and put them back with no issues and a quick Google shows bleeding to be very easy.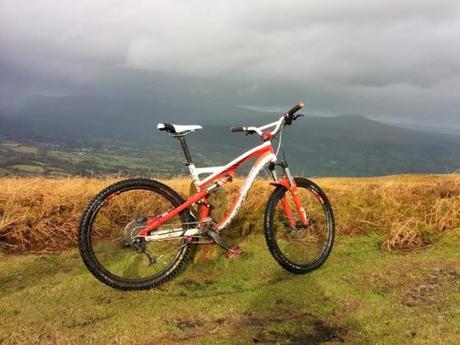 I've tested these brakes out on Cwmcarn, Afan and a nice long XC ride over the Blorenge and had absolutely zero problems. In fact it took me a while to get use to riding a bike that had brakes that actually worked! The pads took a couple of miles to really wear in and not having the ability to fully adjust the levers is a little bit annoying but for £40 more you could upgrade to the Shimano SLX but there's no desperate need to do this.
Overall
If you're looking to make just one upgrade to your mountain bike then you really can't go wrong with the Shimano Deores, unless you're running something better. They perform and look way better than their price tag would suggest – especially if you can get them in the sale! Over 100 miles of use and they haven't faltered once, even on some really technical downhill tracks. For £80 there is very little else out there that will make such an improvement to the way you ride than a decent set of brakes will, the Deores get a solid 5/5 from us at Grinding Gears!