Good morning merry sunshines!!
It's inTUEative Tuesday!!! I'm really excited about my write-up today so we're doing it first.
That bad little 4 letter word……
It starts with a "D" ends with a "T" and rhymes with fry-it!
A big part of eating intuitively is living life diet-free. It sounded simple enough to me. I deleted my calorie tracking app on my iPhone. I quit frantically searching for nutrition labels before eating. I'm even letting myself eat what I want with no restrictions.
This concept is turning out to be harder than I thought.
I've been doing the work the last few weeks but progress has been slower than I expected and last night I finally figured out why. I'm still thinking about this process as a DIET. I was upset that I haven't seen any physical results (meaning weight loss) since starting. I'm not eating less like a magic fairy-dust crusted intuitive eating switch was flipped on inside my body and all the years of diet destruction have been erased.
I think this mindset was causing a lot of my set backs. It's easy to think this isn't working for me! just like I thought after every failed diet. It's easy to want to forget all about inner hunger cues when I feel like this new "diet" isn't getting me exactly what I want. But you know what? This year's resolution is Get Fit in 2012 not lose weight in 2012. I'm fine exactly where I am and I like how I look. Let's be focusing on a healthy relationship with food!!! Let's be thankful that a lot of progress has been made already in just two short weeks.
Intuitive eating is not a Diet it's a way of life. I'm not on a diet I'm changing my life!!
Breakfast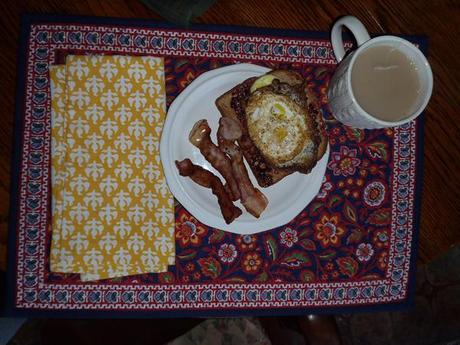 1 fried egg on toast with blackberry jam, 3 slices of bacon and 1 mug of awake tea with soymilk.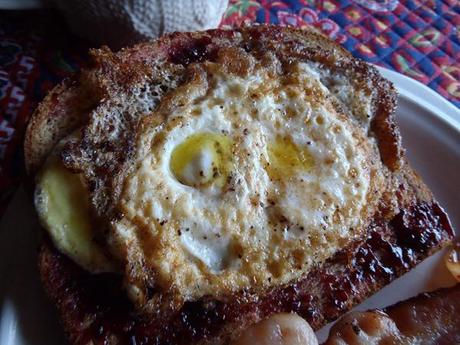 Egg on toast sounds kinda gross but trust me… you gotta give it a try because it'll become your quick go-to breakfast.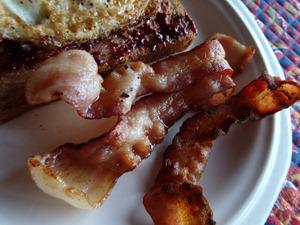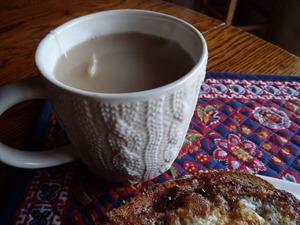 I'm Crazy Nervous!
We have a basketball game tonight and the head coach (Ken) might not be there which would mean I'd have to lead the team. Gilroy will be a rough game. I'm just not as experienced as Ken and the girls are on this 3 game winning streak. I don't want the team to suffer because of my lack of coaching skills. I've never coached Varsity before and it's so different from JV. In the past when I've had to coach JV games I always had my Dad to sit on the bench with me because he was the Varsity coach but I don't have that tonight. This is real deal coaching and I don't think I'm ready.
It's a good thing I have a 3 miler on my new schedule because I'm going to be going crazy this afternoon. No caffeine today!!!!
Tell me about you!!!! I want to know………..
 When was the last time you were crazy nervous?
Right now!!
What is your favorite 4 letter word?
spit (it sounds funny……)
If you could go anywhere in the USA where would you go?
NYC