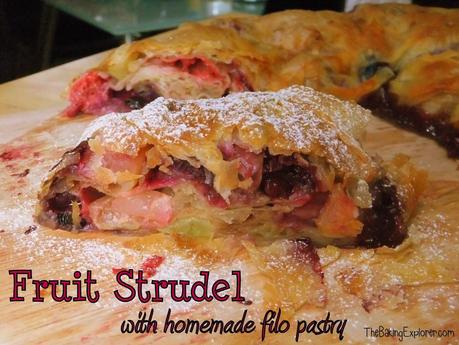 I've always said that making filo pastry from scratch is absolute madness and a pursuit only to be undertaken if you are a Great British Bake Off contestant. However seceretly I have been harbouring a craving to make it myself. Just to see what it was like, out of curiosity more than anything. Now I live with my boyfriend I have so much more time at weekends (we used to live in different cities) so I have time for big baking projects like this. So I did it! Here's what happened...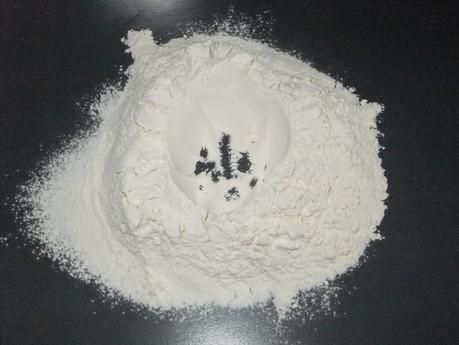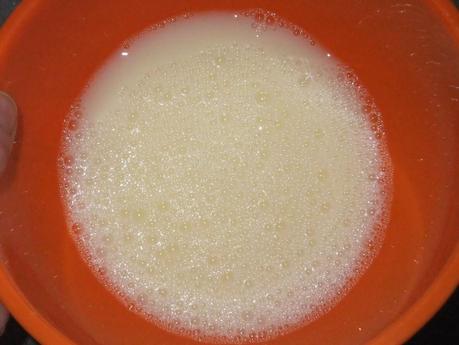 I decided to make a strudel as this is one of the most well known filo bakes so I thought it was a good place to begin. I started making the filo pastry by sieving 250g plain flour into a bowl. In a seperate bowl I beat one egg with 125ml water, 1/2 tsp lemon juice and a pinch of salt. The recipe told me to put the flour on the work surface (hence the photo above) and pour the egg mixture into it. This is a bad idea. I do not recommend it as it is stupidly messy. Just mix it in a bowl until a dough forms.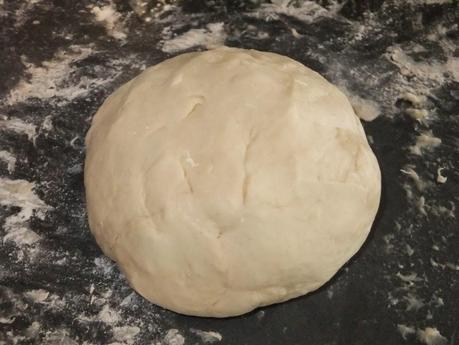 The dough will be quite wet, but knead it on a floured surface until it smooths out. This takes about 10 minutes. I oiled my hands to stop it sticking to them and found this quite effective.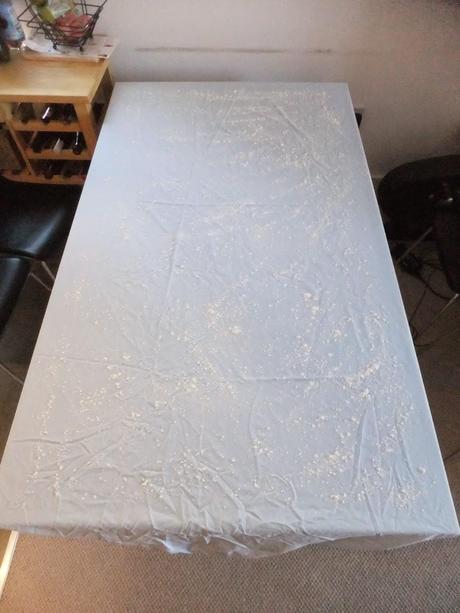 I covered my dining table with an old, but clean, bed sheet. You could also use a tablecloth. You may get butter or fruit juice on it so don't use your best linen. Then I floured it evenly and well.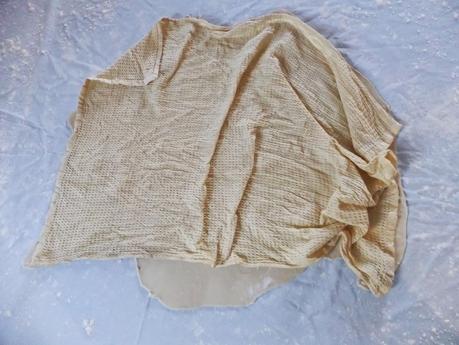 I rolled out the dough as much as I could with a rolling pin, then covered it with a damp tea towel for 15 minutes. I used more flour and kept the dough moving so it wouldn't stick to the sheet.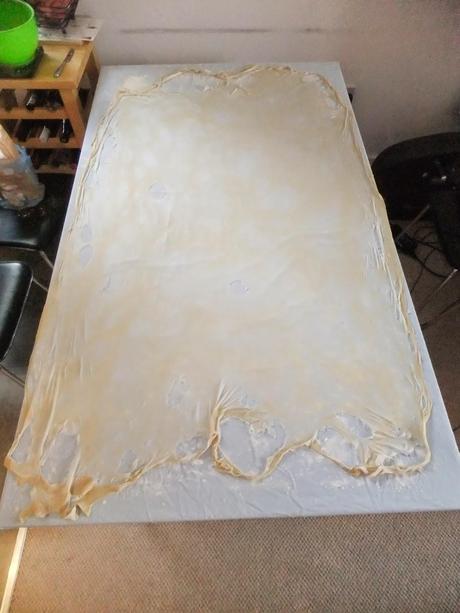 Then I started stretching! I pulled and stretched the dough gently, letting it stretch with its own weight. It wasn't as hard as I imagined as it is naturally a very stretch dough. It did tear several times but I was expecting that so I wasn't too concerned. It was hard to keep the edges thin and they stayed thicker all the way around.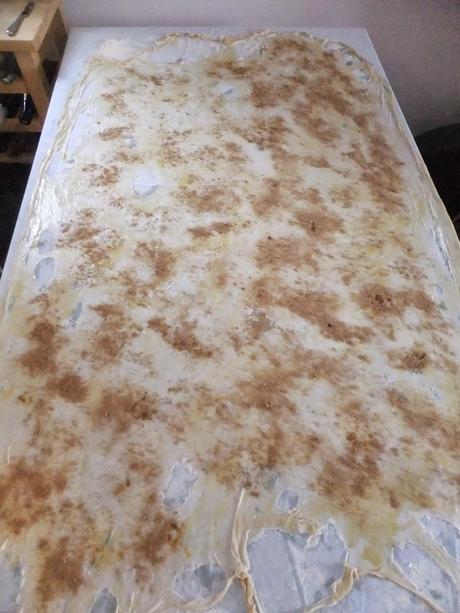 After brushing melted butter all over the dough, I sprinkled it with a mixture of 100g soft light brown sugar, the zest of 1 lemon and 1 tsp cinnamon.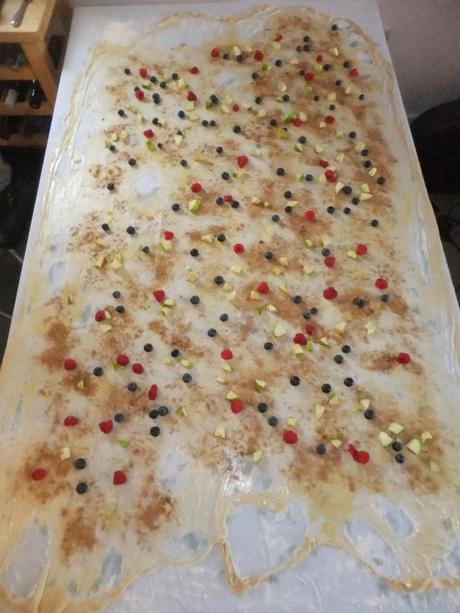 I then sprinkled it with one punnet of blueberries, one punnet of raspberries and 3 bramley apples chopped into berry sized pieces. Using the bed sheet I rolled up the strudel gently and slowly.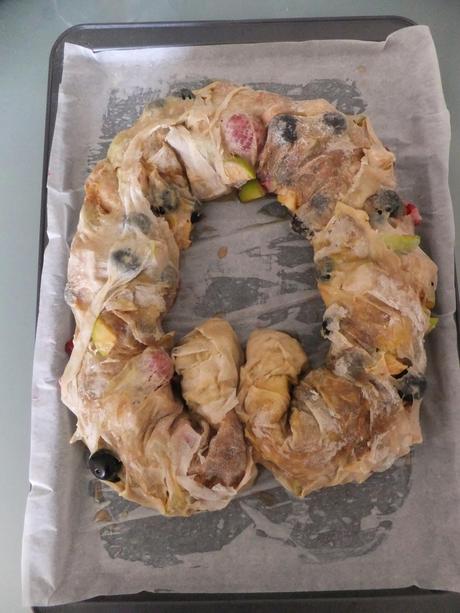 I put it on a baking sheet and left it overnight in the fridge. The next day a lot of juice had released from the fruit, I mopped it up but I was concerned about how thin the pastry looked on top, how soggy it was on the bottom and how many holes there were in it all over.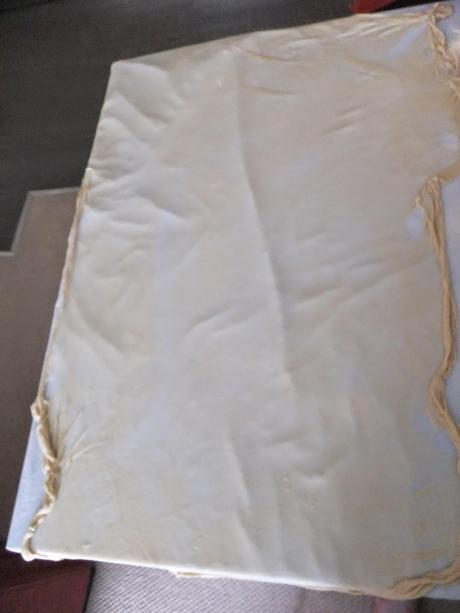 So I made more! I used half of the quantity and it stretched a lot better this time and I was much more careful about not making holes.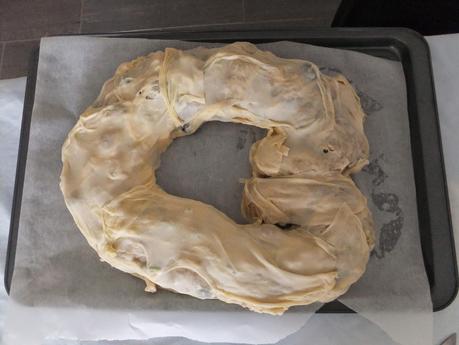 I re-covered the top and bottom with pieces of the new pastry. It wasn't the neatest but I felt more confident that it wouldn't fall apart when baking. If I hadn't left it overnight, I probably wouldn't have done this. I brushed it all over with melted butter to make it nice and golden when it baked.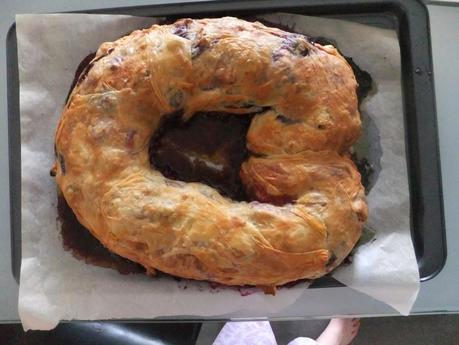 I baked it on 180C/350F/Gas Mark 4 for 35 minutes. The fruit released a lot more juice, so I transferred it to a wire rack (with a tray underneath) to cool. You can of course serve it straight away, or let it cool then warm up later. I thought it tasted better hot.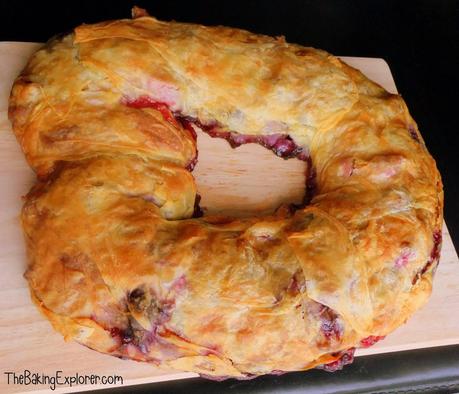 I sliced it up and served it with custard (not homemade, come on... I'd done enough!) I was pleased with how well it had baked despite being left overnight, the filo was beautifully golden, layered nicely and there was a good proportion of fruit. In some areas like the ends there was too much pastry, but if you're tucking it in to seal it you can't really avoid this. I'd definitely add more spices if I make it again, but you could taste the cinnamon. It all got eaten up and I got some good comments from colleagues and family. Overall I was really proud of myself and it felt good to overcome this baking challenge!