Today's Frugal Fashion Friday isn't focusing on just the cost of the item but the cost per wear. There are items that are my go to items each winter and I've worn some of them for years. They are classic pieces that I know will never go out of style but they also fit my personal style.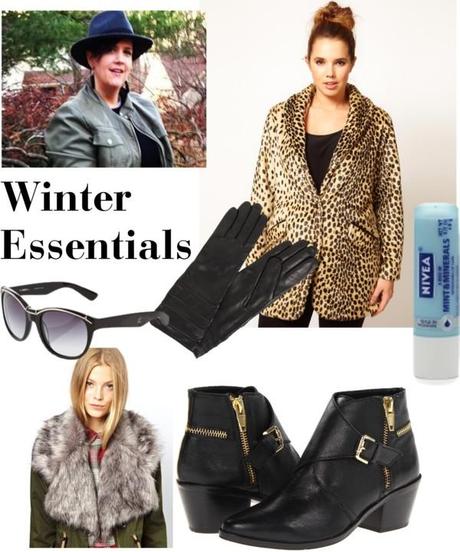 Click on the photos for buying informaiton.
 I own these or similar items and they are all my go tos for winter.
Wool Felt Fedora -
I've owned this gray fedora for a few years. It's one of my favorite bad hair day toppers and it looks stylish too. The gray means it goes with everything. It's a classic style.
Leopard Coat -
My mom gave me this leopard coat last year and I wore it all last winter into the early chilly days and nights of spring. It's a statement coat and I LOVE it.
Moisturizing Lip Balm -
I love my colored lipsticks but they don't always moisturize. My lips always get so dry in the winter. I wear this lip balm under lipstick and on it's own.
Longer Leather Gloves -
I have a pair of leather gloves that are longer than average. They go about a third of the way up my arm between the wrist and elbow. The longer length is great because they cover my wrists and go past the cuff of my coats. I scored mine at Target several years ago.
Great Sunglasses -
Winter glare from snow and just direct sunlight can be wicked. I love a good pair of sunnies. I scored these by 3.1 Phillip Lim, over the holidays at Neiman Marcus Last Call.
Fur Collar -
A stylish fur collar makes even the most basic coat amazing. If I'm not wearing my leopard coat, I add a fur collar (I have a few) to almost every other jacket and coat I own. My favorite way to wear it, is with my leather biker jacket.
Low Heel Black Boots -
My boots came from
Target's Dolce Vita
collaboration. I wear them constantly in the winter and love them. They aren't leather and are on their last leg. I've ordered these beauties from Zara but I also love the ones above from DV Dolce Vita. A great pair of black ankle boots look stylish, keep your feet warm and can be worn with pants or skirts and tights.
All of these items weren't the least expensive things I own. They were good buys because they get tons of wear from me. To me, that is the mark of good value. If you paid very little for an item but it sits in your closet, was it a good buy? I think not. Lots of wear, means an item was worth it, regardless of a discount or not. Look for those pieces that you know you'll wear over and over. Those are the best value for your money.
What are your winter go to items?
Happy Friday Real Girls!