One of the best way to make you fashion dollar go further is to purchase pieces that can be worn in multiple seasons. Using some of your summer pieces in fall and some of your fall pieces in late summer can help you through that time that is both warm and cool.  I've pulled together a collection of pieces that I already own (or own similar items).  Using pieces like these with some basics can help to transition you to fall.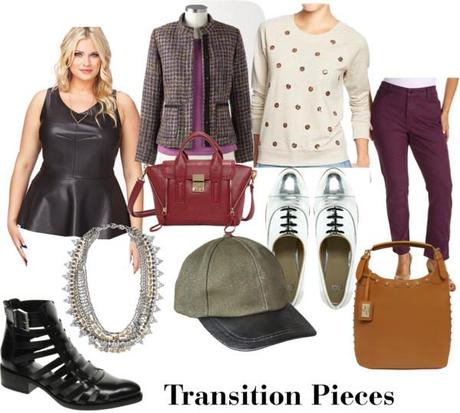 Click on the photos above for buying information.
 This faux leather peplum top is one of new favorite pieces. I can wear it with these plum jeans on the weekend or with dress pants and a boucle jacket to the office. Add the silver oxfords or the cage booties, a great bag and a statement necklace to finish the outfit.
This embellished sweatshirt stands alone. Wear it with the plum jeans, cage booties, and cap on the weekends or throw it on with a simple solid skirt for the weekdays. It's lightweight enough to wear now in a chilly office or later when there is a chill in the air. This necklace from Stella and Dot can be worn five different ways. It won't over conflict with the embellishment on the sweatshirt.
Easy pieces like these can be worn multiple ways and in lots of weather. Making your dollar go further.