Every year I look forward to our family beach trip. Over the years I've learned that less is more and items that do double duty are the best. I live in swimsuits, sandals and easy dresses.  Our days are spent on the beach and afternoons and evenings are spent hanging out with the family at the beach house. There is no need for fancy outfits. I enjoy the easy of a sundress and a few simple pieces of jewelry. In case you're headed to the beach this summer, here are a few of my favorite items.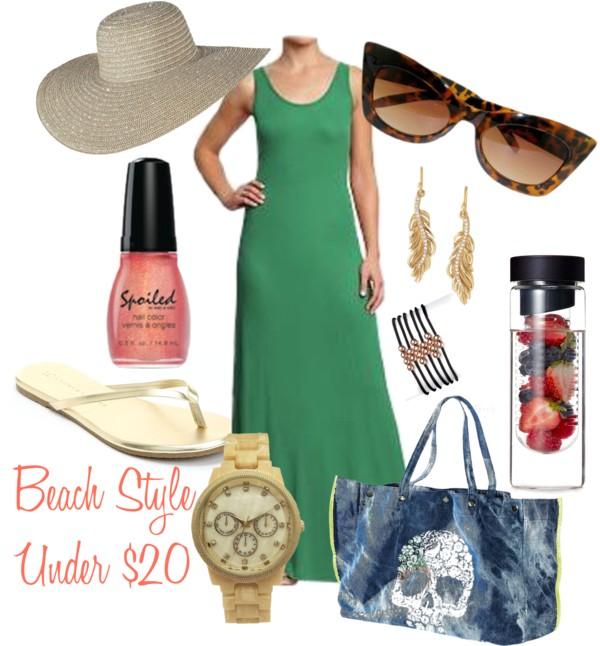 Click the photos above for buying details.
 A simple wide brimmed sun hat is mandatory for me at the beach.  I wear tons of sunscreen but I also wear a hat. Years ago I bought a wide brimmed straw hat like this one and it is my go to hat for the beach every year. Reading
this article in W
just confirmed that I'm on the right track when it comes to sun protection. In addition to my hat, I always wear sunglasses, they look great and protect my eyes. This pair looks a lot like
a designer pair that costs $138
. At $9.99 these are a great deal and they have 100% UVA/UVB protection.
This maxi dress from Old Navy can be worn to the beach or out in the afternoon. You can even change it up by added a belt or a scarf. I love items that do double duty.  A cover up and an evening sundress all in one. Just from their name you know the Double Wear Floating Beaded Elastics from Goody do double duty.  They can be worn on your wrist as a bracelet and when you need to put your hair up, there they are. Pretty and functional. I own three pairs of simple sandals from Kohl's that I purchased almost 10 years ago. I wear them all summer and they've held up well.  They don't make the style I own any longer but these sandals from LC by Lauren Conrad come in ten different colors.  You can wear them to the beach and then out later.
Pretty earrings, like these from Stella and Dot, are a must have for me at the beach.  They are easy to throw on, no matter my hair style and they don't stick to my sweaty summer skin.  They can elevate a simple dress, like the maxi and make it look a bit fancy. Bonus, they are on sale for half price! Pretty toes are also a must for me at the beach.  I love a bright color like this coral.
I always attach a watch to my beach bag. I could sit in the sun all day but it's not good for me. Knowing the time, helps me be smart about my sun exposure. This watch is chic enough to wear out but if something happened to it at the beach, I wouldn't be upset. Speaking of beach bags, this tote from Target is fun and easy to haul to the beach with my sunscreen and magazines.  It's cotton and isn't lined, sand will be easy to shake out and you can wash it without worry. Hydration is important when you are in the sun.  This water bottle from UncommonGoods will save the planet from disposable bottles and infuse your water with flavor.
Can you believe that every item is less than $20!?  Just proving that great beach style doesn't have to cost a fortune.
Happy Friday Real Girls!