A couple weeks ago I scored a fantastic deal at the Talbots Outlet.  I found a pair of paisley ankle pants that fit me perfectly.  I LOVE them and have been finding tons of ways to wear them. Earlier this week I spied a cute gingham shirt at Old Navy.  I immediately thought of pairing with my blue and purple paisley pants. As luck would have it today's Friday's Fancies challenge was to create an outfit using gingham.  It's kismet!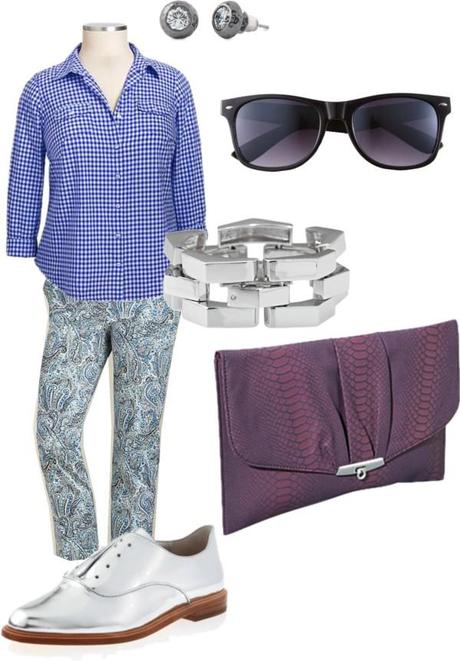 I've created a fun outfit for less than $300. The shoes are the priciest item, almost half the cost of the entire outfit. They can be found at Neiman Marcus Last Call (lastcall.com). If you sign up for their email alerts, you'll get notifications about sales. Last month there was a flash sale and I scored them for $55!
The pattern mixing gives the outfit a bold feel.  The clutch is an extra pop of color and it has a chain handle to make it more versatile.  This ensemble is my ideal weekend outfit.  Stylish, comfortable and easy to wear. The jewelry is simple but stands out and the oxfords and wayfarers are classic.  A gingham shirt is on my list now.  That means some weekend shopping is in order.