Normally gold isn't my first choice but this week I spied the sweater below and then did a little window shopping on the Stella & Dot website.  There are some amazing gold pieces in their new collection.  Since it's Friday, I thought I'd stick with our frugal theme and find some great gold items under $50.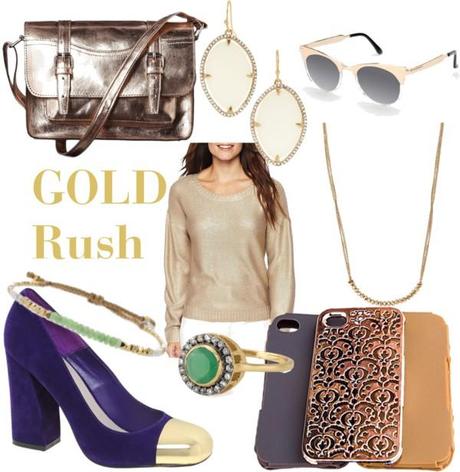 Cross body bags are a weekend staple for me.  At under $15 this one from Target is perfect.  These statement earrings from Stella and Dot are amazing! They're gold but I love that it's almost an accent to the creamy stones and the rhinestones. Over the summer I scored a pair of sunglasses almost exactly like these from Urban Outfitters. They are a fun alternative to my standard black frames. The gold beads of this Stella and Dot necklace look like stones and I love that it compliments the Foundation bracelet (with tiny green stones) without looking too matchy matchy. This green and gold cocktail ring from Stella and Dot is equal parts vintage and cool.  All of the Stella and Dot pieces work well together.  The chunky heel and cap toe of these blue suede pumps make them look like a pair my Mom owned in the 60's.  The bright blue is fun.  I've been on the hunt for a new iPhone case.  These used combined or alone create five different looks.  The cut out gold cover is so sophisticated.
Searching for all of these fun items has given me a new appreciation for gold.  Do you love gold?
Happy Friday Real Girls!