Today I'm taking a break from the fall trends to tell you what is on my list of wants.  Some of the items are trends and some are just things I love.  Not all of the items are frugal buys but I will tell you how I plan to get them for a bargain. Today I'm also linking up to
Friday's Fancies on Long Distance Loving
.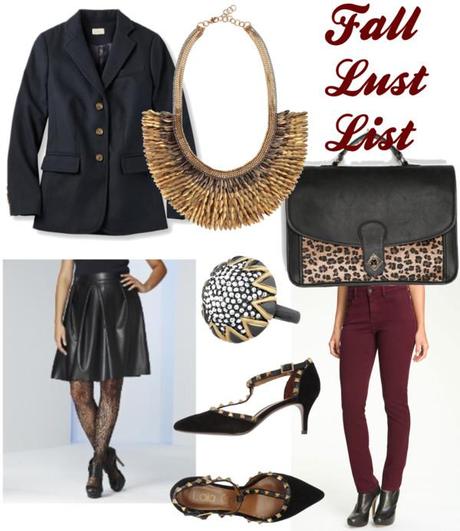 Click on the pictures above to see the details.
Navy Blazer
- This classic item will take me everywhere.  I can dress it up or down and it will never go out of style.  I'll be hitting all of my favorite thrift stores and discount stores to hunt for a classic navy blazer.
Leather (Faux Leather) Skirt
- A pleated leather skirt has been on my list for a couple of seasons.  Leather is a huge trend this fall.  Faux leather is affordable and if you choose a classic style like pleated or a pencil skirt you can keep it for years. I will be using a discount code to get a great deal on this skirt.
Colored Skinny Jeans
- These Bordeaux colored skinny jeans are right on trend.  I scored these NYDJ at Nordstrom Rack for $60 earlier this week! The rich color is great for fall and a fun alternative to blue jeans.
Statement Necklace
- I'm in love with the Pegasus Necklace from Stella & Dot.  The layered feathers are beautiful and an unexpected way to do a statement necklace.  I will be using some of my
trunk show credits
for this fantastic necklace.

Leopard Accented Bag
- 
Black and leopard combined with the school bag tote style
of this bag is perfect for me.  I'll be able to stash all of my essentials and it will still look great.  Even better, this bag from Urban Outfitters is on sale right now!

Statement Cocktail Ring
-  If you aren't in the mood to wear a ton of jewelry, a fantastic cocktail ring is the ticket.  There are so many things to love about the Stella & Dot Starstruck ring.  This one is definitely on my list of wants.  I'll be spending some of
my trunk show credits
on this ring.
Studded Ladylike Pumps
- The studs on these ladylike pumps are unexpected. The shoes are very similar to the Valentino studded pumps but at only $100, I can actually afford them! 
Hope you have time to hit up some early fall sales this weekend.  I'm attending fashion even number three of the week, on Saturday.  I'll have recaps next week.  What is on your fall wish list? 
Happy Friday Real Girls!