Today's Friday's Fancies challenge is beach style.  I knew I could come up with great style on a budget for our upcoming beach trip to the Outer Banks of North Carolina.  It's an awesome family trip that I look forward to every year.  I try not to over pack but still have great style.  Today's outfit fits that bill in full retro style and for a bargain.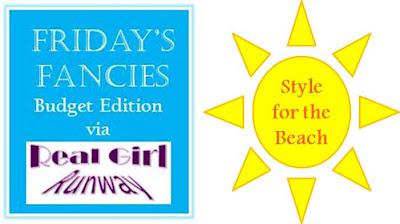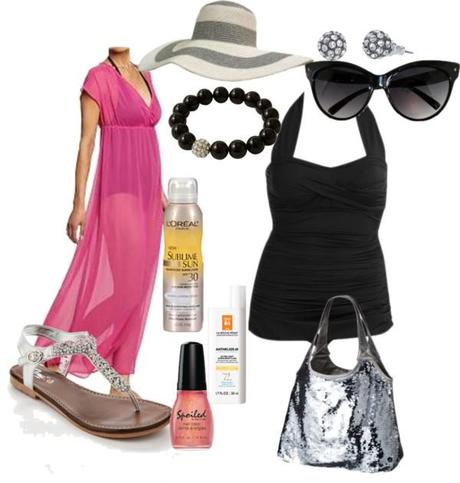 Beach Chic by realgirlrunway featuring a slimming swimwear

Retro Swimsuit, $33
Flat thong sandals, $36
Sequin tote bag, $21
Stella & Dot black pearl bangle, $22
Stella & Dot pave jewelry, $24
Chiffon Maxi Cover-Up, $25
Silver and White striped sun hat, $23
Rounded Cat Eye Sunglasses!, $5.99
L'Oreal Sublime Sun Advanced Sunscreen Hydra Lotion Spray SPF30 $11
La Roche Posay Anthelios 60 Ultra Light Sunscreen Fluid., $30
Spoiled Nail Color Shrimp On The Barbie, $1.49
I've had a retro style swimsuit on my list for a few summers.  This year, I might actually buy one.  A retro halter suit with runching is flattering to all body types. I never hit the beach without a great hat.  It's stylish, I don't have to think about my hair and it's a great way to keep wrinkles at bay by protecting my face from the sun. A few simple pieces of jewelry are it for me at the beach.  Stud earrings like these from Stella & Dot are pretty and won't get in the way when you are active.  The stretch bracelet is easy to slide off before you get in the water.  Fun retro shades are definitely on the bill.  I love sunglasses and own way too many pairs but these are only $5.99 from GirlPROPS.  You can afford to own more than one pair.  I always take a book, my towel, water and extra sunscreen to the beach, this sequin bag is perfect for a fun way to tote your stuff.  Cute sandals and pretty toe nails are always on the bill for my beach trips.  I love this pink and orange shimmery polish. The name cracks me up: Shrimp on the Barbie, Spoiled by Wet n' Wild.
You've read my tirades before about using sunscreen and protecting your skin. I look for bargains everywhere but I never skimp when it comes to sunscreen, especially for my face. I can replace a suit or pair of flip flops but once you get wrinkles or melanoma, you can't go back. I've taken the Sun Savvy pledge and wear sunscreen every day and even more at the beach. Most people don't apply sunscreen correctly or often enough.  This site has great tips. Don't worry you'll still get a great tan.  
Nothing on this list is over $40!  Great bargain style finds for any beach.
Do you have beach or pool plans?  It's supposed to be over 100 all weekend here in DC.  I think I'll be trying out my beach style this weekend.
Happy Friday Real Girls!