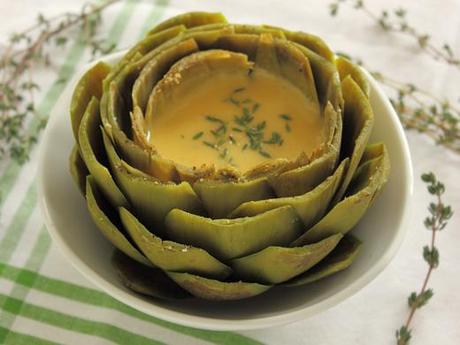 Artichokes are a fussy vegetable. They aren't a bundle of asparagus spears, easily turned into a tasty side with some olive oil, a sprinkling of salt and pepper and a splash of balsamic vinegar. In fact they barely even resemble something edible.

Artichokes are all about process. From prep to cooking to that culminating moment when you finally sit down to eat the fruit (or veggie) of your labors. Instead of resenting the artichoke for its demands of high maintenance, we embrace it.

Each step lovingly performed. First the trimming of pointy ends to avoid pricked skin. Then in this case, a lobbing off of the top third to create a nook to hold the creamy dip. Lemon juice thoroughly applied to the exposed surfaces to prevent discoloration. A hot steamy boil to cook and a cool refreshing one after to stop the cooking process. Finally, the inedible parts of the choke carefully removed. 

A dollop of dip is placed in the hollow and then you can sit down with your reward, dipping each of the outer leaves into the embodiment of richness.  Peeling off that bit of artichoke, delicious and grassy in its own right, but hinting at the grand finale to come later. The inner leaves become completely edible, a crescendo of artichoke, building and building and building until that glorious and bittersweet moment comes when you realize that the heart is all that's left. The artichoke is almost finished but the most delicious bites still await you. That heart is carefully portioned out into equal size bites, neither too big nor too small but that Goldilocks-size of just right. A slight hesitation is made before dipping your one remaining chunk of heart. Very slight...

Now "frost kissed" artichokes are particularly amazing.  During those occasional winters in California when the temperature drops below freezing, we get a couple weeks of unusually nutty and delicious artichokes labeled, "frost kissed."  They may look a little off-putting, with the brown blistering outer leaves, but fully cooked, they are fantastic, and must be picked up whenever available!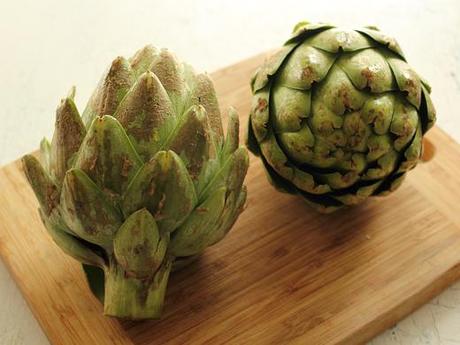 Ingredients


2 frost kissed (or large globe) artichokes
2 egg yolks
1 cup canola
2 1/2 tablespoons Dijon mustard (I like Maille brand)
1 1/2 tablespoons honey
1 teaspoon lemon juice
fresh thyme sprig
salt and pepper to taste
lemon wedges, for serving


Instructions


To start, set a large pot of salted water on the stove to boil. Using kitchen shears, trim off pointy tips of artichoke leaves. Using a large, sharp knife, cut off the top 1-inch of the artichokes and the end of each stem. Using a knife, remove any small leaves attached directly to the base of the stem. Wash artichokes thoroughly under cold water to clean them off, and dry with paper towel.
Once water is boiling, place artichokes in, and cover with a clean cheese cloth, dish cloth, or cloth napkin. This will soak up water and ensure the artichokes stay wet while cooking. Cover pot with lid and cook about 15-20 minutes. When they are ready, they should be just soft enough to push a fork into the inside of the stem, but no softer. Carefully remove artichokes and pace in a colander over sink to drain.  Place in a large ice bath.
I like to make mayonnaise by hand, though I know others find the food processor easier to use for this. I place the egg yolks in a small bowl, then place a cup of oil next to me and get out a tablespoon. Whisk the egg yolks to break them up. Add a tablespoon of oil. Whisk that into the egg yolks so the yolks absorb it. Then repeat. And repeat. Just be patient. It will probably take about 10 minutes to get through all the oil. Then stir in the Dijon, honey, lemon juice, thyme leaves, and salt and pepper.  Refrigerate until serving.
When ready to serve, carefully remove the innermost clump of leaves to expose the fuzzy choke beneath.  Using a spoon, scoop out all of the fuzzy choke and toss.  Sprinkle salt and pepper into the exposed heart. Then, spoon the honey Dijon mayonnaise into the hollow of each artichoke.  Serve with lemon wedges.