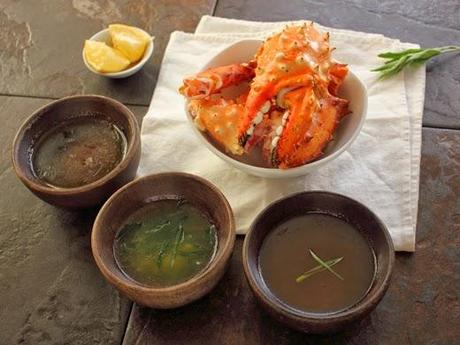 As we drove through the Anza-Borrego desert, we were greeted by mountains jutting up from the earth.
These weren't the mountains I was used to seeing, blanketed in green and (sometimes) white from trees and snow.
These were bare, barren, exposed - its rocky innards just laying there in plain sight.   It was as though the earth had used all the force it could muster to push itself up and out into the sky in this hot, parched landscape and was unable to cover up.  No dermis of of greenery to be laid gently over it.
At first it was jarring to see, but it became beautifully defiant, challenging each person passing by to take the scene as it is.  So boldly, so proudly standing there with nothing to hide behind.
These crab legs are quite the opposite of those brown, rocky mountains. Instead of being all out in the open, one must work at getting the inside free.  Cracking open those shells to extract that sweet meat waiting patiently for release.
To celebrate the release of the meat, we made a trio of butters for dipping.  Why three?  Well, variety is the spice of life, as they say. One is a miso butter all salt and earthy.  Another is a brown butter one, infused with ginger and notes of lemon.  The third is a grapefruit one, accented with tangy yogurt and and the sweet anise taste of tarragon.  Each bite of crab to be excavated out of its protective shell and dipped into one of the butters.  Unlike the wide open California desert, the crab keeps its essence hidden away.  It takes effort to get at, but it's definitely worth it.


Ingredients


King crab legs, cooked
lemon wedges, optional for serving
Miso Butter:
1 stick unsalted butter
1 teaspoon miso (we used hacho miso)
Gingery Brown Butter:
1 stick unsalted butter
1 tablespoon + 1 teaspoon grated ginger, divided
3 1/2 teaspoons meyer lemon juice
pinch salt
1/4 teaspoon agave nectar
1 teaspoon grated ginger
Tarragon and Grapefruit Butter:
1 stick unsalted butter
1/2 cup tarragon leaves
1 tablespoon fresh grapefruit juice
1/2 teaspoon grapefruit zest
1 tablespoon plain Greek yogurt
freshly ground black pepper, to taste
kosher salt, to taste


Instructions


Miso Butter: Over low heat, gently melt butter with miso.  Use a fork to work the miso into the butter.  Remove from heat once melted.
Gingery Brown Butter: In large saute pan, add butter and 1 tablespoon ginger. Melt then allow the butter brown, about 5-7 minutes total. You will see brown specks that have formed on the bottom of the pan. Be careful to not burn the butter.  Once browned, stir in the Meyer lemon juice, salt, agave nectar, and the remaining ginger.
Tarragon and Grapefruit Butter: Melt the butter gently over medium low heat, then stir in the remaining ingredients.  Adjust salt and pepper to taste.