New York Philharmonic to Present Free Resurrection Symphony.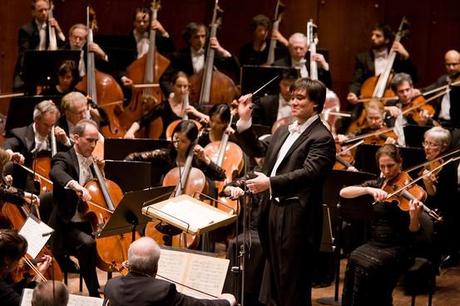 Alan Gilbert will conduct Mahler's Second Symphony on Sept. 10, 2011.
Photo by Chris Lee © 2011 The New York Philharmonic.
This week, the New York Philharmonic has announced A Concert for New York, a free performance at Avery Fisher Hall to commemorate the victims of the terrorist attacks of September 11, 2001. The location: Avery Fisher Hall. The program: Mahler's Symphony No. 2, also known as the 
Resurrection
 Symphony.
The Second is written on an enormous scale, and performances can last over 90 minutes. Mahler's sweeping vision of the afterlife calls for titanic forces, offstage trumpets, soprano and mezzo-soprano soloists, and a choir. The first movement originated as a tone poem called
Totenfeier.
It is a massive, ominous funeral march. Of the five movements, the first three are instrumental.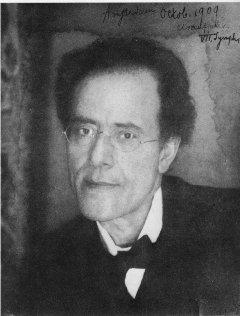 Gustav Mahler in 1909, when he 
led the New York Philharmonic.
The fourth movement is a setting of "Urlicht", a song from the collection
Des Knaben Wunderhorn,
which provided source material for Mahler in his first four symphonies. The finale starts with Friedrich Klopstock's poem
The Resurrection
and then dives into Mahler's own text. The last movement depicts the last trumpet, the Day of Judgment, and the dead (literally) rising from their graves.
First performed in 1895, the
Resurrection
was written as a tribute to the conductor Hans von Bülow. It was first performed in New York in 1908 durig Mahler's tenure as music director of the New York Philharmonic. The composer himself conducted.
Ever since that historic concert, the work has enjoyed a long association with with great Philharmonic conductors, including Dmitri Mitropoulos and Leonard Bernstein. This performance will be conducted by Alan Gilbert, the first
Resurrection
in his tenure as the orchestra's music director.
Tickets for
A Concert for New York
will be available to the general public this summer. Additionally, the performance will be broadcast on a large screen in Josie Robertson Plaza. Finally, PBS will televise the concert on
Great Performances
on Sept. 11 as part of the comemmoration of the tenth anniversary of the terrorist attacks.