Last night's 84th annual Academy Awards marked the return of old Hollywood Glamour, the staid tradition of the Oscars, and Billy Crystal. It also was a fantastic night for the gents on the red carpet, who in some instances took more sartorial risks than the ladies! Below are our top 10 picks for best dressed men on last night's red carpet.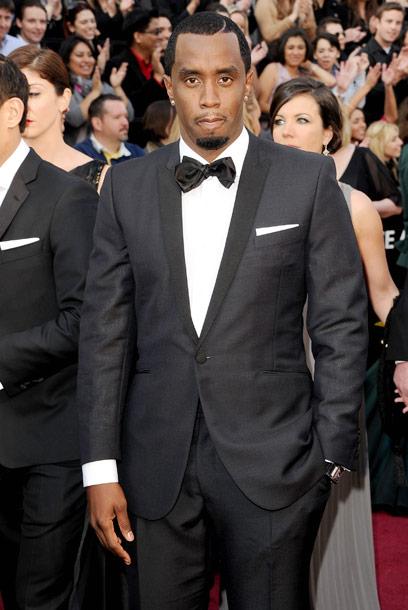 Jason Merritt//Getty Images
Diddy showed up to the red carpet with his own personal lint roller (and that is a job title, mind you, not a tool in your closet arsenal), and we think his Spencer Hart (?) tux deserved its personal assistant! Combs' satiny, effortless bow tie perfectly complemented the sleek fit of his tux's jacket, and he looked fantastically dapper last night; we're still waiting for a confirmation on the tux's designer, Diddy has yet to respond to our tweets.
9. Colin Firth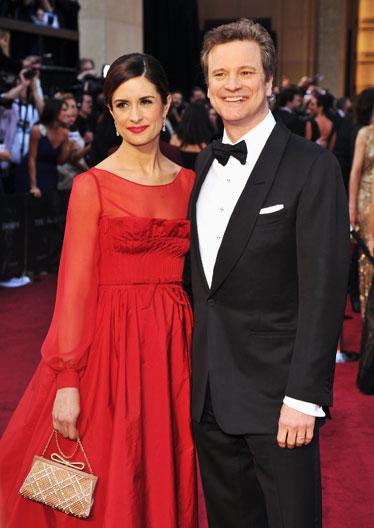 Getty Images
Last year's Best Actor winner looked every inch the Hollywood star in his classic Tom Ford tux – we especially loved his perfectly proportioned studs.
8. Bradley Cooper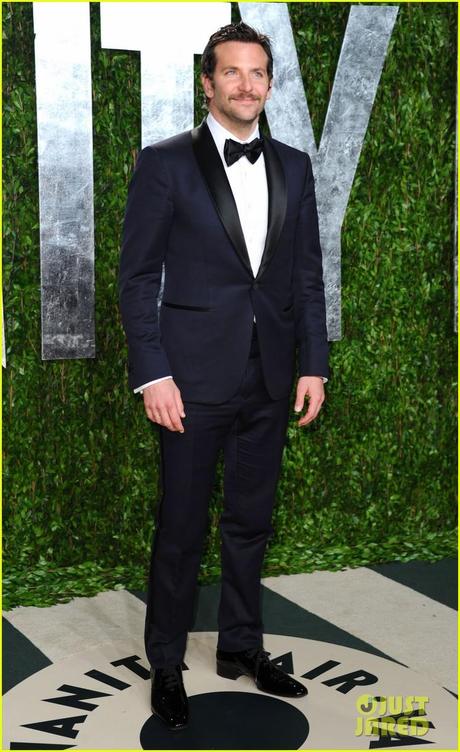 via JustJared
This year's sexiest man alive lived up to his title with his midnight blue tux with black satin shawl collar, looking like a Hollywood god – excepting the awful facial hair.
7. Jason Segel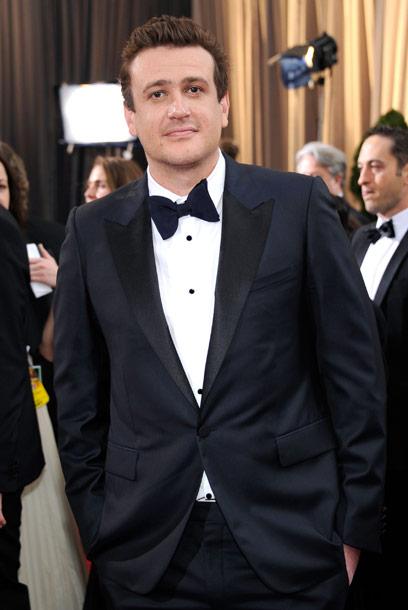 Ethan Miller/ Getty Images
6. Brad Pitt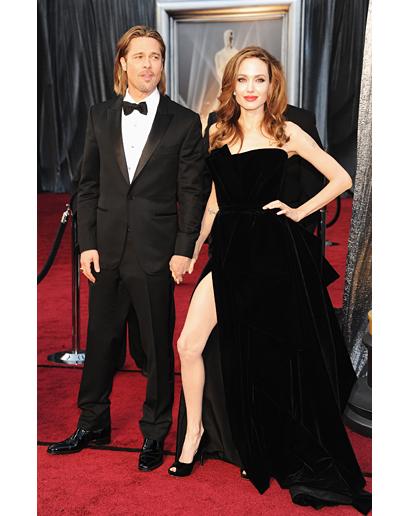 Getty Images
Another gorgeous Brad, another perfectly tailored tux, and sadly, another star outshone by unfortunate hair. If Brad had done something (anything!) else with his golden locks, he'd be placed a lot higher on our list. However there's no denying that he's positively rocking his tux – it even held its own next to Angie's Right Leg.
5. Pharell WIlliams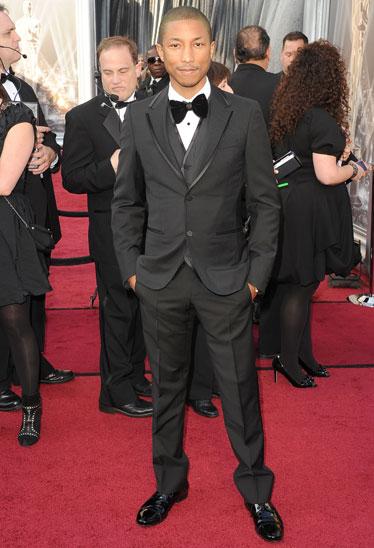 Getty Images
Not only did a Pharell-led mini band in the balconies add a splash of cool to the Oscar tunes, his red carpet look was a refreshingly modern take on the three-piece suit. We don't mind the added dash of black, especially since this suit is so well-tailored. We're also pretty sure we spotted an Audemars on his wrist, so bonus points for a gorgeous luxury timepiece.
4. Gary Oldman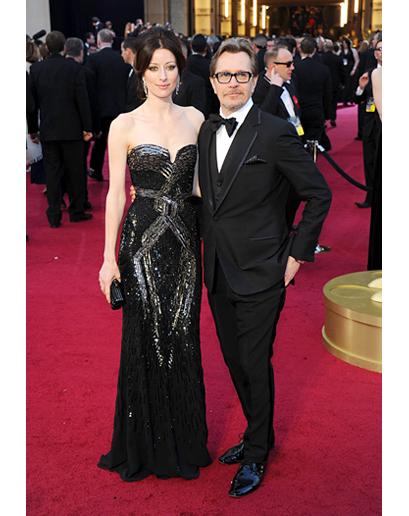 Getty Images
Another take on the 3-piece, Gary's look is surprisingly a little more irreverent; we can't put our finger on it (maybe it's the uber cool accessories or satin trim), but somehow Oldman looks even trendier than Pharell.
3. Christopher Plummer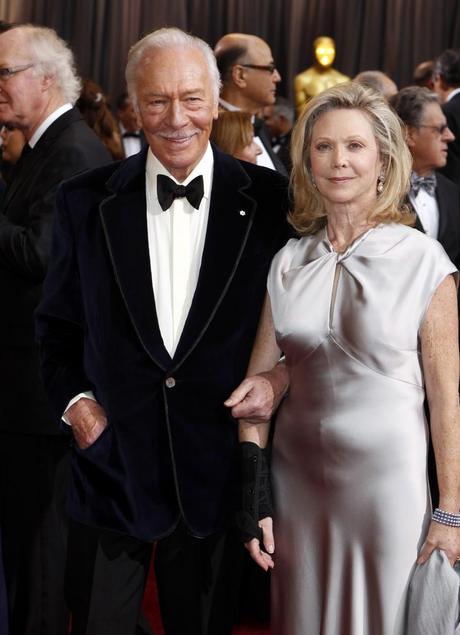 Reuters
This Hollywood veteran couldn't have picked a more perfect ensemble to accept his well-deserved award last night. A midnight blue blazer on any other star may have come off as cheesy, but on 84 year old Plummer, it's sheer perfection. Bravo, sir.
2. Jean Dujardin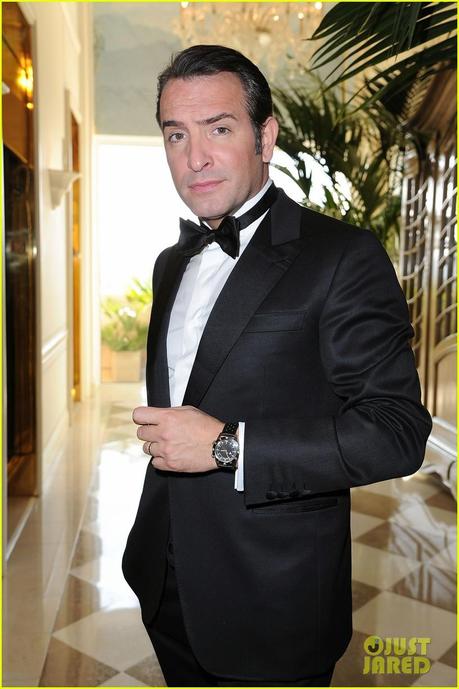 via JustJared
Our new favorite Frenchman had the entire Academy (and audience) smitten last night even before his sweet and gracious acceptance speech for Best Actor. His perfectly notched lapels and sleek black tux are reminiscent of the Golden Age of Hollywood he expertly portrayed in The Artist. His Jaeger-LeCoultre Memovox Tribute to Deep Sea watch is the perfect complement.
1. George Clooney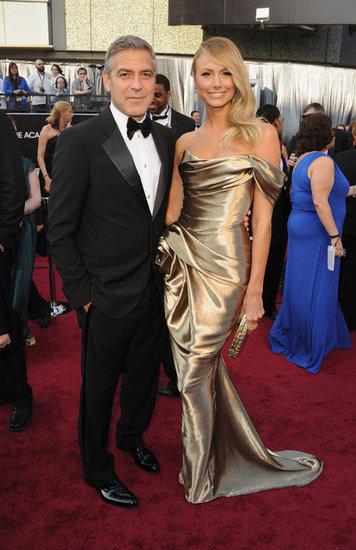 Getty Images
Ever a red carpet star, George Clooney again reminds the world that he is the ultimate face of the tuxedo. George was born to wear a tux, and his Armani number is no disappointment. His race for Best Actor (with the handsome Dujardin above) was just as close as the contest for Best Dressed, in our book, but George pulls ahead here looking like the ultimate movie star.
Who was your favorite star last night?Tell us in the comments below, and check back later today for our top 10 jewelry looks!
Liz for Raymond Lee Jewelers, your source for diamond jewelry, luxury estate jewelry, designer jewelry, and luxury watches.