We at Notcutts are so pleased to have caught up with Jenny Steel, a well known gardening author to share her enthusiasm about wildlife gardening. Jenny developed a passion for wildlife when she discovered caterpillars at the age of six or seven, and an interest in birds and wildflowers soon followed. This is the first of two articles Jenny has kindly contributed to us and will be followed up with an advisory piece about how to get started with wildlife gardening.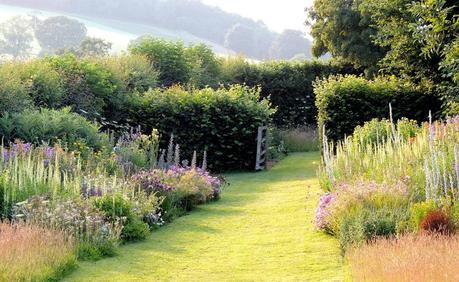 I often think that true gardeners are born, not made.  Certainly that was true for me.  From the youngest age the small, narrow garden of my parents' Victorian house in Oxford was heaven as far as I was concerned and although I think it is very likely that the flowers were not quite as beautiful as I remember, and I'm sure the days really weren't always sunny, in my memory that small space was a sort of paradise, not just for me but also for the wildlife that shared it with my family.  Helping out, learning which plants were needed and which weren't, and getting to know the birds and insects that lived in the shrubs and borders, or watching the frogs and newts in the concrete lined pond, was simply a part of growing up.  It was here that I met my first hawk-moth caterpillar and watched robins feeding young in the nest.  It was a garden ahead of its time.
Today of course this little space would be called a wildlife garden and gardening in sympathy with nature is now a national phenomenon that is sweeping through our gardening community.  Crucially though, our ideas about what a wildlife garden really is, and why we should garden in this way, have changed over the last few years.  However there have always been misconceptions about what a wildlife garden looks like and from those very natural gardening beginnings I grew up to become a plant ecologist and a wildlife gardener with a calling – a mission to show people that wildlife gardens weren't pockets of neglect, shabby corners or simply patches of nettles but were beautiful, vibrant gardens.  A garden fit for wildlife can be almost any style - what is important is how that garden is managed and what you plant in it.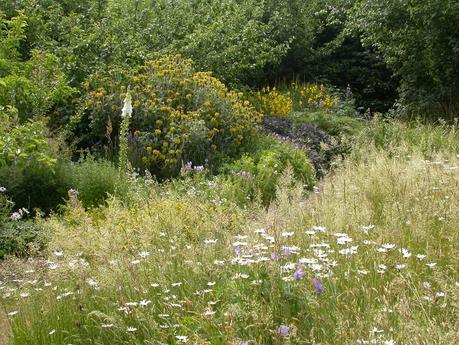 I often cast my mind back twenty five years to a windswept strip of grass in Oxfordshire and wonder how it was possible to leave my job and take such a leap of faith. I was determined to show people that gardening for wildlife could produce something as beautiful as any garden they had ever seen and also provide the plants – native wildflowers, herbaceous plants and shrubs - for them to create such a garden for themselves.  The venture was a surprising success and that wildlife garden – the first of many I was able to create - featured in magazines and TV programmes.  Ten years on from leaving Oxfordshire my mission continues in rural Shropshire where my two acre wildlife garden features a wildflower meadow, wildlife ponds and wildlife friendly herbaceous borders.  A website of information also helps people create their own beautiful haven for wildlife.
What remains in my mind's eye from my mother's small city garden is its beauty, exuberance and the life it supported.  Although my Shropshire garden is many times bigger than that little Oxford garden, the principles used to create it, and any wildlife garden, are the same – a little knowledge, a love of beautiful plants and a respect for nature.
About the Author
 Jenny Steel – www.wildlife-gardening.co.uk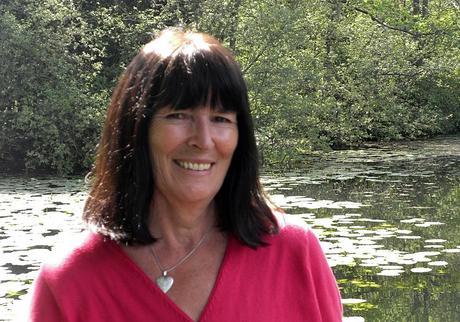 Jenny Steel developed a passion for wildlife when she discovered caterpillars at the age of six or seven, and an interest in birds and wildflowers soon followed. Her mother's enthusiasm for gardening and her father's part-time occupation in journalism and photography were also instrumental in her career path.

A degree in Applied Biology was followed by a Master's Degree in Plant Ecology based on her research into woodland ecosystems in Wytham Woods, Oxford University's well studied 'outdoor laboratory'.  More work in the University's Department of Plant Sciences followed and concluded with a six year project studying arable weeds.

In 1990 she left the University to set up The Wildlife Gardening Centre, a plant nursery providing native wildflowers and insect-attracting cottage garden plants to wildlife gardeners alongside a demonstration wildlife garden.  Her writing career began with regular pieces in the award winning Limited Edition Magazine, a sister publication to the Oxford Times and she became a regular contributor to BBC Radio Oxford.  More writing work followed for a variety of publications including Organic Gardening Magazine, The Countryman, Spaces Magazine, BBC Gardens Illustrated and BBC Easy Gardening.  She appeared on the BBC gardening programmes Gardener's World and as a presenter on How Does Your Garden Grow.

In 2005 she moved from her native Oxfordshire to South Shropshire where she and her husband have created a 2 acre wildlife garden.  She is a keen photographer and her writing and images are inspired by the wildlife and countryside around her and further afield.

If you'd like to find out more about wildlife gardening why not take a look at our Ideas and Advice column about creating a wildlife garden here?