Taking part in the Borneo International Yacht Challenge was the perfect way to get ourselves north up the coast of Borneo. The event is a series of harbor races divided by two overnight passage races. It started from Miri, Sarawak- the southernmost of Malaysia's Borneo provinces- and ended in Kota Kinabalu, Sabah, to the north, after an interim stop at the duty-free island province of Labuan. We had a great time: racing on Totem, crewing on other boats for harbor races, then playing and celebrating with our competitors at the activities off the water.
Entrants were divided into classes based on boat type. There were the IRC (international racing class) boats, a.k.a. the fast boats with people who mostly know what they're doing, and wear matching shirts. You might say this is exemplified by the TP52, Onesails Racing.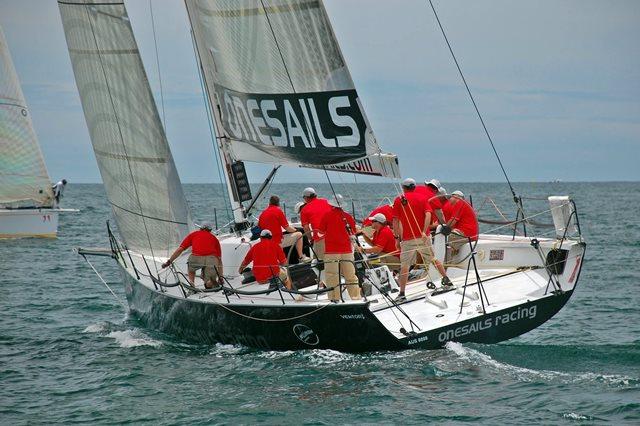 matchy matchy!
Then, there were was the cruising class- people like us, racing their homes, with dinghies and full tanks and all that gear comes with being... well, with not being a racing boat.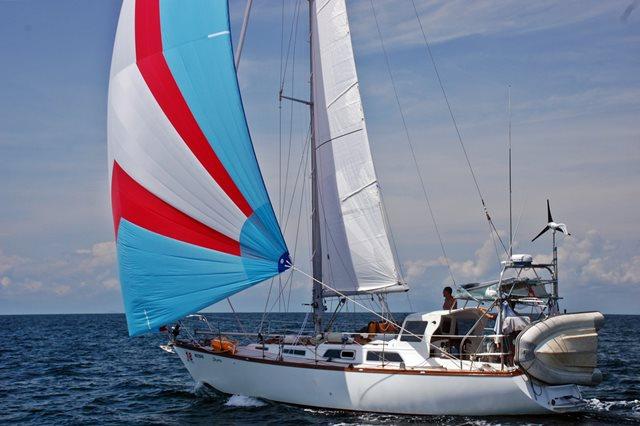 SY Sharita, showing excellent cruising style on the course
The cruising multihulls had their own class. That makes sense. They were slower than the monos.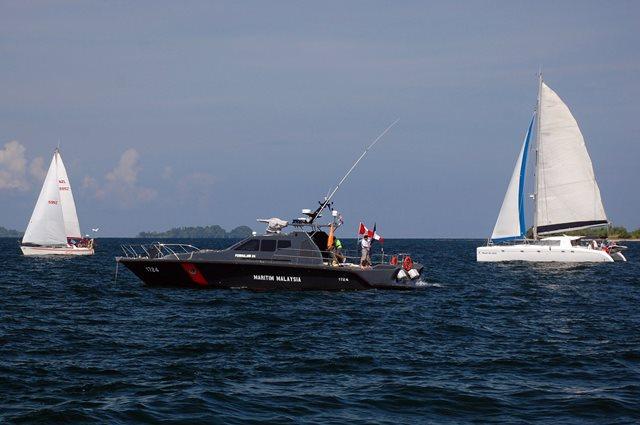 SY Mind The Gap near the committee boat. Yes, that's an automatic weapon mounted there.
There were some really great benefits that nudged us into participating. In addition to the camaraderie of other cruisers (it turns out we could still make cocktail conversation), the organizers provided three dinner receptions- one in each port- and free nights at the Sutera Harbour Marina in Kota Kinabalu.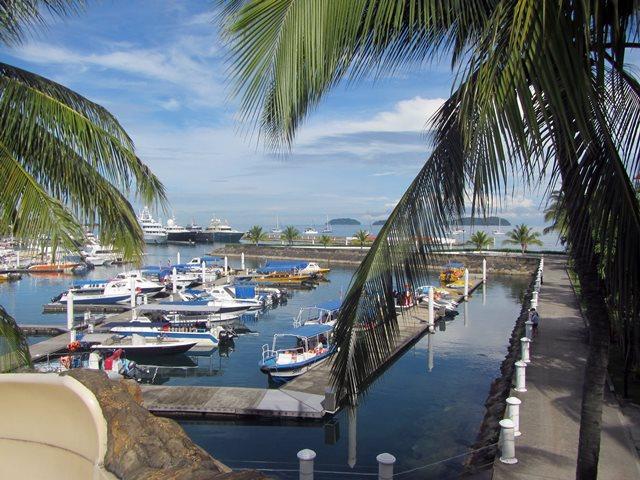 Staying at a marina attached to a fancy resort does not suck. 
The marina is a little pricey by local standards, so we probably would not have stayed there otherwise, and it was a really nice treat for us all. We were lucky to get in, as it turned out, because they only had room for six boats- so most were relegated to the anchorage outside. A kindly cruiser who knew our kids would benefit from the easy shore access gave us their spot. Thank you SY Sharita!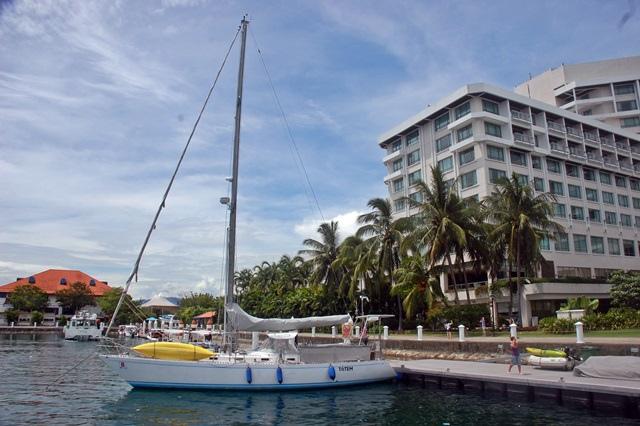 Totem trying to look like she fits in, adjacent to Megayacht Row
The receptions came with some great entertainment and introductions to local culture in Malaysia, with music and dance performances. The kids loved the buffets of delicious Malaysian food. And we all really enjoyed the days of pampering at the plush resort in Sutera Harbor.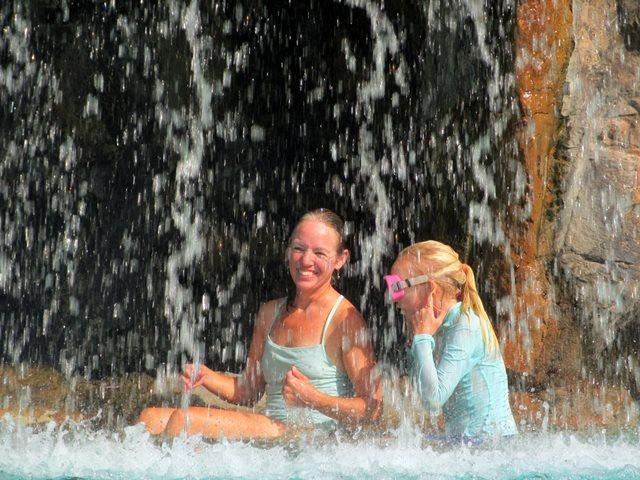 Playing with the girls at one of the pool's water features
I managed to spend most of our time at the resort sleeping off some kind of bug, but there probably couldn't have been a better place for that either. Everyone was thoroughly entertained and I had a peacefully quiet boat to myself most of the time! The kids had friends and four different swimming pools to choose from.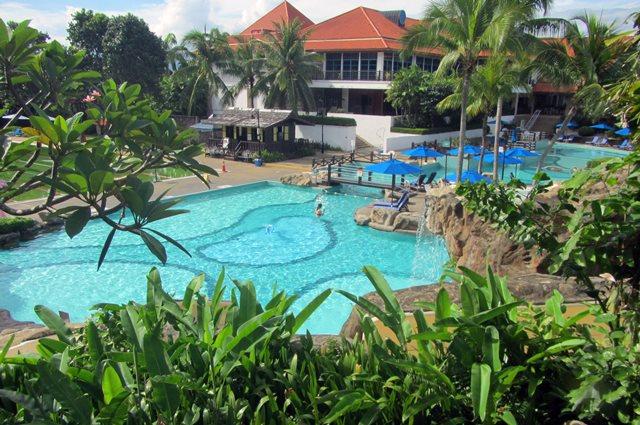 View from one of the water slides 
They organized an afternoon of bowling with a bunch of other boats (which caused one minor runaround, because they had to wear socks. Yes, SOCKS. took a while to work out if we had any, then if we had enough!). There was tennis one day, and on another, Niall went off to town with new friends to the local mall. Is this his first official teenager-y act? Not so much- in truth, they were really just there for the movie theater.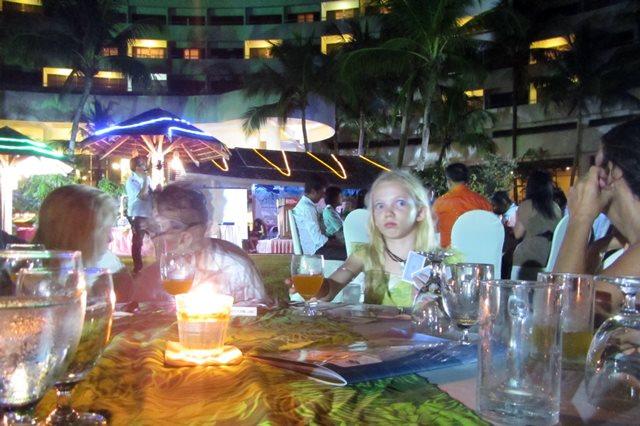 Mairen takes in the reception: tablecloths, candlelight, and entertainment. Oh, and really good food!
On the last night, there was a "cruisers vs locals" soccer game on the beach at the KK Yacht Club, with a big feed at a delicious Chinese restaurant with our competitors afterwards. It was a sweet parting to a fun-filled event.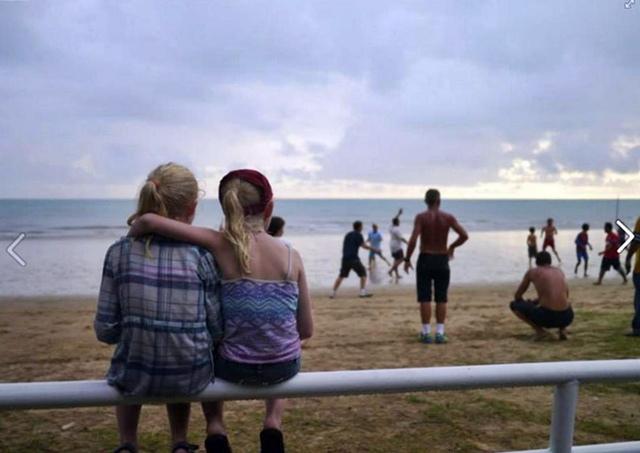 thank you SY Sophia for this sweet photo of the girls!