With the Virtual Screen Video Glasses Mobile Theater you can enjoy your favorite movies, music and photos wherever you are! The Glasses offer quality video and sound effects and thanks to their flexible and lightweight frame, they are really comfortable to wear.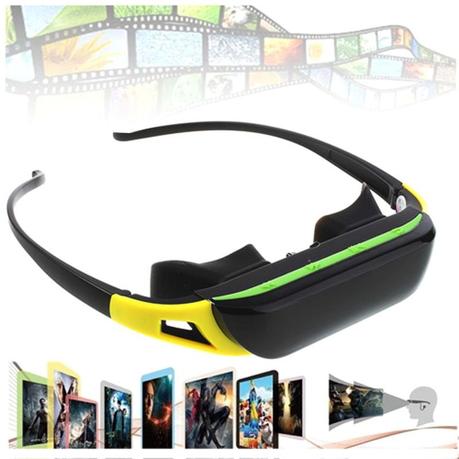 The Virtual Glasses support JPEG, BMP, GIF image formats.
The Video Glasses come with a 84in Virtual Screen (resolution of 432 x 240 pixels), which translates into 2 meters of virtual distance, and support 720p HD videos and various multimedia video formats: MPG/VOB/MKV/AVI/MOV/MP4/ASF. They have an adjustable interpupillary distance, which means that more people can wear the Glasses without any problems. The stereo headset connected to the Glasses is detachable and the 5-in-1 button makes operating the Glasses simple and easy.
The 750mAh battery can last up to 3.5 hours and the Glasses also have a microSD slot which you can use to expand the storage up to 32GB. The Virtual Glasses come with a complimentary 4GB microSD card.
The Virtual Screen Video Glasses package includes:
- 1 x 84" 16:9 720p HD Wide Screen Video Eyewear Virtual Glass Mobile Theater
- 1 x Eye Patch
- 1 x USB Data Cable (approx. 100cm)
- 1 x Headset (approx. 50cm)
- 1 x 4GB Micro SD Card
- 1 x Carrying Pouch
- 1 x User Manual
You can purchase the Virtual Video Glasses at MyTrendyphone at the price of 127,30 EUR.