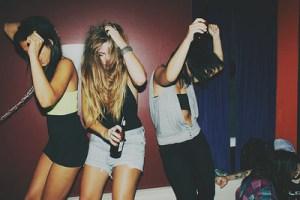 Yes! To answer your thoughts and questions. My birthday weekend was a complete shit show full of alcohol, kisses, good friends, late nights and some birthday lovin! Of Course Alex and I got too rowdy with my friends from out of town. Friday night I woke up in her bed naked with a thong on? Don't know how that happened so maybe she will tell you guys because I can't! All I have are bruises and scratched high heels from friday! Saturday however….
We got a table and Enso around 9:30ish (Enso is a supper club) = a DJ, sushi, dim lighting, and pro athletes every where. DELICIOUS! We decided to go to Suite after dinner because we were ready for some dancing! My All American Bad Boy texted me saying that he got a table for my birthday at Oak room and told me to come Asap! I texted back and said: "thank you but no thank you, but we already had plans." He got mad, oh well. I always drop whatever I'm doing to go party with him. And even though he always pays for everything and for all of my friends i never really know where I actually stand with him. We get to suite around 12:30! The shots are flowing along with good music and in walks my American bad boy! I was shocked, why would he leave his table with his friends to come see me? He did though. He introduced him self to my brother and had a good time with all of my friends.
When it was time to leave he came back with all of my friends to my house where we all continued to take tequila shots and dance in the kitchen until 5 am. I have never brought a guy back to my apartment. It becomes a serious "relationship" kind of thing so thats why I don't do it! He is now the first. And he is talking to my brother (who lives in Wilmington, NC) that "we" (as in him and I) are going to come visit…whoa! This is weird. Then we went upstairs and he gave a great BIG present. We fucked until we passed out. I remember him kissing every inch and crevasse of my body and moaning so loud because he spent a lot of time below the belt! Happy Birthday to me!!!
But what does this mean?