Rock's Roots in the 19th Century Art Song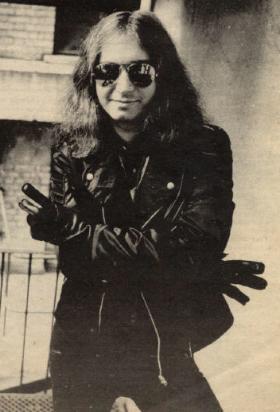 A modern composer: Jim Steinman.
Today, the 19th century art song (
lieder
in German,
chanson
in French) is not as popular a form of so-called "classical" music as the opera or the symphony. Art songs are small and intimate, micro-pictures and stories that last from three to seven minutes...wait...doesn't that sound like a description of rock and roll radio?
These compact works by composers like Schubert, Schumann, Berlioz and Wolf are essential to an understanding of the development of Romantic music. But you could also look at them as ancestors of the modern rock song as developed in the last half a century. Like rock songwriters, composers of art songs were interested in breaking new ground, ignoring the constraints of form to create original musical settings that resonate today.
Schubert's "Der Erlkönig" which has some of the drive and drama of rock.
Performed by Dietrich Fischer-Dieskau.
For the last 50-odd years, the rock world has been blessed with a surfeit of good songwriters, from the Brill Building composers to the sandbox fantasias of Brian Wilson. Wilson also incorporated complex harmonies, orchestrations and oddball electronic instruments like the Theremin on his masterpiece "Good Vibrations."
The Beach Boys: 'Good Vibrations' from the aborted Smile project.
The team of Lennon and McCartney, and occasionally Harrison, actually absorbed classical influences (largely through their producer, George Martin) and studio techniques that were originally created for the preservation of operas and symphonies on vinyl. By the way the idea for this song came from a circus poster.
The Beatles: "Being for the Benefit of Mr. Kite" from Sergeant Pepper's Lonely Hearts Club Band.
Folk music developed in North America, where "folkies" like Woody Guthrie and Pete Seeger gave way to Bob Dylan, Neil Young and Joni Mitchell. Those three artists also struck out in new and different directions: Dylan plugged in, Neil un-plugged and Joni worked with jazz bass god Jaco Pastorius. Like the composers a century before, songwriters put the importace of art over the happiness of their audiences or even commercial success:
Neil Young pushes the envelope. "Sample and Hold" from Trans © 1982
Like 19th century
lieder
, some rock songs are often based on poetry or literature. Heavy metal bands (Iron Maiden, for one) regularly raid the
Oxford Book of English Verse
, producing songs like "The Trooper", (Tennyson) and "Rime of the Ancient Mariner" (Coleridge):
Iron Maiden performing 'The Trooper' from Death on the Road.
These poems get rewritten into elaborate musical arrangements of power and bombast, much like the orchestral songs of Berlioz or Mahler. And speaking of bombast, the songs of Jim Steinman combine Wagnerian chord progressions with the '50s songwriting sensibility of Lieber and Stoller. He even rewrote some of his songs for a German musical called
Tanz der Vampire
, which brings things full circle:
Jim Steinman's "Gott is tot" from the musical Tanz der Vampire.
This song was originally in English and called "Original Sin."
Today, the music of a century ago continues to influence what we put into our IPods. In between outfits,
Lady Gaga
has repeatedly demonstrated the influence of her own classical training. Metal has its share of
heldentenors
. And classical instrumentalists have even tried their hand at reworking pop songs, like these guys: 2Cellos, covering Michael Jackson.