Fringe Trend 2015: 7 Adorable Fringe Handbags
Every year an old fashion trend comes back bigger and better. This year, the fringe trend has resurfaced bringing us a variety of fringe benefits. Sweaters, skirts, shoes, and handbags have been emerging from various designers covered in fringe. Fringe was all the rage at New York Fashion week this year, and everyone is jumping on the bandwagon. When I think of fashion, the phrase "history repeats itself" often comes to mind.
I must admit that back in the day; I'm thinking late 80's early 90's; Fringe was something that I didn't find cute at all. When I thought of fringe, I thought of the Wild West. And then I thought about Kool Moe Dee decked out in fringe on his video (please tell me you remember the song Wild, Wild West). I can remember those awful denim jackets with white suede fringe. However, that was then; this is now. I love all of the new fringe clothing and accessories that slated to be the trend for the fall collections of 2015.
I have assembled some of the cutest affordable fringe handbags that are sure to add a touch of fabulousness to any outfit. I can see you strutting down the street with anyone of these bags humming "Ooh I think they like me". Yes, that's a really old song, but at the very least you'll receive a ton of compliments. You probably should skip the humming.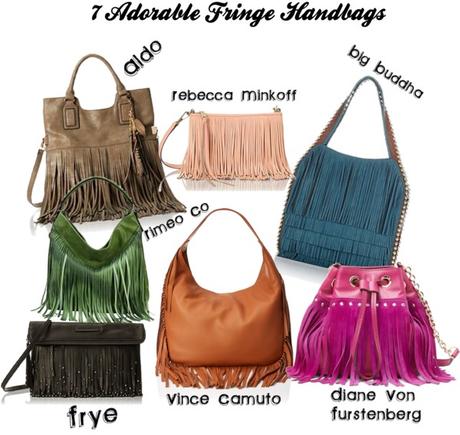 Shop these styles and more
here
Are you loving or hating this revamped trend?