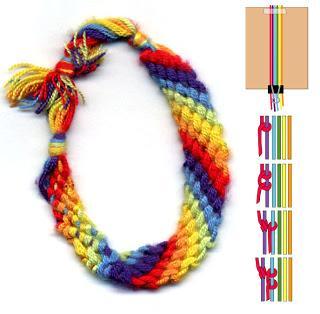 This project was a hit not only with girls but with boys as well. I think they are just "surfer" looking enough to work for both.

1. These bracelets are made with 6 colors, one for each letter in the word F-R-I-E-N-D. I cut about a yard of each color and taped them to the back of a piece of 8.5" x 11" chip board. I then taped the top down with the yarn lying smooth and placed a clip at the bottom. Keeping the yarn snug and in place while working produces more consistent knots.
2. The process of making the bracelet is releasing one yarn at a time from the clip, wrapping a double knot around each successive yarn, and then securing it to the board again with the clip. Here are some good instructions with 4-lines, but the process is the same. I've found after working with many 20+ classrooms that some students will learn the steps by seeing a large example done on a board, some may be able to work from a printout, and some will just need to see the steps one-on-one. Whatever the case, it just takes patience to get through the initial "I need help" phase.
3. When the bracelet is about 6" long, students tie a large knot at both ends, and then tie them together. This project takes a bit of prep time, but every year I am so happy I did it because of all the students that proudly wear their bracelets all around school.