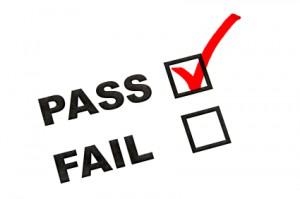 Lovers…..PASS or FAIL" />Lovers…..PASS or FAIL" title="PassFail-Small" />
As I lay here and listen to Musiq Soulchild's Half Crazy I am faced with one question, Should you pursue relationships with long term platonic friends? Well, that's a tricky question, I can honestly say that I don't know one single person who has started a relationship with a long term friend but I do know that situations like this can have a 50/50 chance. People will say that friends turned lovers is often a good combination because of the fact that they know each other well, but people fail to realize that the friend side of you is often different from the romantic side of you. The way I treat you as a romantic interest and the way I treat you as a friend are two separate personalities.
There are several factors that can make this a no no. First friends generally know you better than the average person you date. They know if you've cheated, they know if your ass is crazy, they know whether or not you got your shit together, and they know whether or not your kids is bad as hell if you have any. So now when you start to date this person all these factors come into play. If you've cheated before they begin to worry if you'll cheat again, the crazy side of you that they thought was once funny now becomes a problem, and your bad ass kids now become a liability (if you have any) meaning Lil Pookie about to get the shit knocked out of him because he kicked you and his momma thought it was cute. When it's all said and done, somebody is bound to be half crazy and a good friendship you once had is now over. You really do end up saying, Damn I just want my friend back.
Now, I'm not saying that it can't work because if their crazy and you crazy and neither of you have your shit together than this could be a match made in heaven because like generally attracts like and friends sometimes do make the best lovers. There's a quote I read that says friendship can blossom into eternal love but love into friendship is often sad because it hurts. So the way I see it, either way you're doomed!  You either pass and make it or you fail and lose all. The only thing I know to be true is with any relationship regardless of how it develops its a gamble and there are simply no guarantees. I find that people change like the seasons and you don't know what you will get from one day to the next. When love knocks you down, you simply get up, dust yourself off, and keep going. The best you can hope for is that someone is placed in your life who gives you a reason to smile despite lifes ups and downs and someone who accepts you for who you are and all the beautiful qualities you have offer. The circumstances surrounding your love doesn't matter at this point because even though the heart is on the left it will always lead you in the right direction. PASS or FAIL…..who knows?