Hello lovely people!
Today I have a slightly unusual post for you, but hopefully you will enjoy this as much as I hoped. I am a student and as you know many students have a budget to stick to. I asked a few girls in my class what makeup they use and if they would bring in some stuff for me to have a look at. I am always on the lookout for new makeup and figured someone else might find some good products I have yet to see! I also thought it would be a good opportunity to my student readers or people on a budget to see what products are price friendly!
All of the girls items I have featured in this post have different skin types and styles, so I reckon this is a good opportunity to see if there's products I would like to try or splurge on!
Starting off with the lovely Elijah's make-up: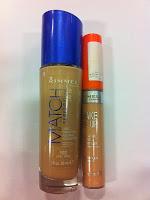 Elijah brought in these two products that she uses everyday for her foundation and concealer routine. They both have light reflecting power and are designed to give a healthy glow. The Wake Me Up concealer is something I am going to purchase on my next visit to Boots or Superdrug. Elijah having quite pale skin like myself really suits these two products and they sit well on her skin.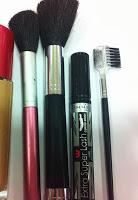 Misha brought in these products, one of which I already own. I have the little eyebrow and lash brush on the end which I recieved in a W7 kit for your eyebrows. Misha doesnt wear alot of makeup and like Elijah uses the Rimmel brand for foundation and by chance had the same mascara which is also Rimmel Extra Super Lash! The girls lashes always look lovely and clump free so I may give this mascara a try out! I think this retails for around £5 so if your on a budget this is definetly a must have!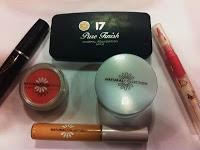 Fay also brought in her makeup and made me very jealous by bringing in her Real Techniques brushes! I know these brushes aren't particularly money friendly but they are definitely a must have for any beauty enthusiast! Fay has quite a few natural collection products and was telling me that they suit her skin type best. The Natural Collection is definitely budget friendly and have a great selection of products. Fay also had a liquid pen lip-gloss by Ted Baker (Available in Boots) that was similar to the ELF hyper shine lip gloss which is amazing!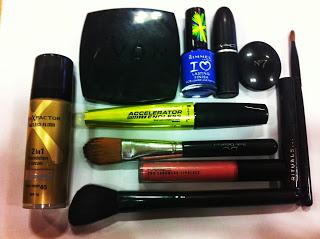 Last but not least lovely Meghan's makeup! Meghan has a few more expensive items in her makeup that aren't budget friendly but are lovely anyway! I haven't seen a MAC lipglass in the shade I like so far, but the one pictured that Meghan brought in is a natural color and suits her really well. I also would love too purchase the Speak Louder lipstick that she owns! Its a daring pink but looks lovely with Meghan's brown hair. Another product that caught my eye in Meghan's collection was the lovely blue nail polish! I have never worn a bright blue nail, since my H & M polish (Blue my mind). This is "Loafer Love For You" by Rimmel, at £2/3 I think this nail polish is a bargain and a beautiful shade!As you can see by my research the girls have proved that Rimmel is a popular product amongst them all! I think I will be making a visit to my local Boots store and picking up a few of these beautys!Before I go I am also going to include a little splurge make-up collection from Lee who also is in my college class! Her makeup is always beautiful and looks nice and natural. Lee uses the products below on a daily basis. Her favorite is the Chanel eyeliner which if I have the money i I would love to try as it looks so nice! All of her products are definitely things I'd love to own!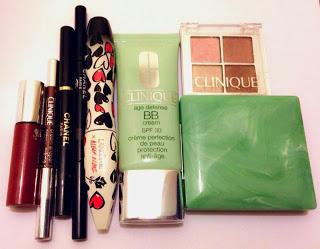 L to R: Lanc

ô

me lipgloss (gorgeous red shade), Cream eye shaper- Clinique, Automatic Liquid Eyeliner from Chanel in Black, Chanel Eyebrow Shaper

, Lanc

ôme Hypnose Mascara, Clinique BB Cream, Powder Pallette from Clinique and Clinique Eyeshadow Pallette.
Thanks for reading :)

x
*Thankyou to all the girls featured for letting me see your makeup and allowing me to do this post, your all wonderful!*