Happy Halloween! It's time to put on your cleverest (or in my case, warmest) costumes and shake down your neighbors for candy! If you're too old for that and feel uncomfortable asking fellow adults for free candy, get thee to one of the many Halloween parties on your social calendar and request mini bottles of Fireball instead. A little anti-freeze never hurt, and hey, if you're in Chicago you might need it! It works that way, yes? #Science. I hope you're crafting one of my cocktails from Thirsty Thursday, namely the cool creepy zombie brain grenadine concoction. You only have to make it once, tweet me a picture, then you can use the remaining grenadine for copious Dirty Shirley's. Promise. And then tomorrow, if you're in South Florida, you must swing by the RLJ showroom for our patented #rljhangovercure (hint: it's beer.) We're hosting Wings & Rings tomorrow, so you or your man friend can gorge on chicken wings and craft beer while shopping for diamonds. It's an all around win. And if you're not in SoFla, you can still get in not eh action – upload a selfie with wings and rings and use #rljwingsnrings for the chance to win a $500 gift card to RLJ! But enough about me, just kidding. Here's what I'm into this week.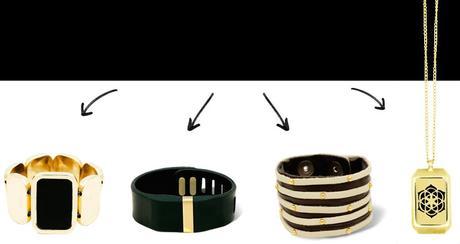 Track your activity & stay safe while walking at night with these bracelets – starting at $49!
Capes are so hot for fall
A ring that can prevent assault? Now that's smart jewelry.
But wait – it gets better! These pieces are actually very trendy and look truly like jewelry – not wearables. And they start at $49!
This can't be real. It just isn't. And is it bad to want to buy the pieces just to make the end product?
Taylor Swift. Don't fight it. You can't fight it. It will be everywhere, you may as well be dressed for the occasion. And by dressed I mean wearing your headphones and dancing to 1989 because it's great. So there, you now know what you're getting ready to this evening, and pre gaming with tonight, depending on how cool everyone else you hang out with may be. Happy Halloween!