You guys…I am so sorry for the sparse posting this week! I wish I could blame it on the epic episode of Scandal last night, but I can't. And I only said that to fulfill my goal of working scandal into every post in the future in perpetuity. But seriously, I've been busy cooking up some major stuff for RLJ for the holiday season. I can't say anything yet, but our Cyber Monday plan is…insane. Your eyes will pop out of your head. In a good way. And before we even kick off the holiday shopping season, we're celebrating those who typically don't like shopping. Men! It's fitting that November 1st, the beginning of Movember, is all about the men in the RLJ showroom. We're hosting our first ever Wings & Rings event, and I'm so sad I won't be there. But Dawn, our engagement ring whisper will be. And Richard, who can make your wildest custom-design dreams come true will be there. Jayne will sell you every ring you never knew you needed (probably two), and Donna will have your fiancé calling immediately after your proposal to thank her. They're all that good. So you should go (or bring your boyfriend) – they'll have beer. And food. And diamonds. And if you RSVP you get a PRESENT! And if you bring the postcard invite (or print it out) you're entered to win a big, huge prize. You can read more here and RSVP here.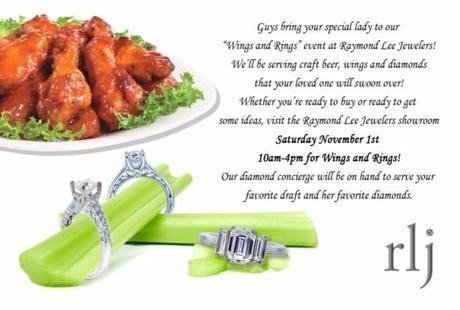 Other than that, I've been doing a lot of online shop-lusting. It's like online shopping, but nothing shows up via Amazon Prime after a hazy shopping frenzy fugue state.
I want this amazing gold decanter. And these adorable gold polka dot heart plates. And everything else by C. Wonder on Shopbop.
And I will legitimately be shopping the Kate Spade sale this weekend. Starting with these. Brides – how perfect are they for the loveliest "Something Blue?"
I obsessed over the newest designer line at RLJ.
And shared what NOT to do when buying an engagement ring.
And finally, I indulged in some absolute waste of time Buzzfeed about my favorite topic (non-Beyonce phylum.)
What did you do/learn this week? Was it that you should never cheat on your hairstylist? Or did you learn that you shouldn't attempt to "wash" an 8×10′ shag rug in your bathroom? Just me?