In 2009, while in Louisiana, my Mother totally turned me onto Dancing with the Stars!  I was reluctant at first but since then I have made several attempts to get my girlfriends to love it as much as I do!  The stories are great, the dancing is great and if watching these dancers in perfect shape doesn't motivate you to keep up the gym routine, I don't know what will!   I would plan my gym trips around watching it with her. That season Ochocinco was part of the cast and  Nicole Scherzinger went home with the coveted Mirror Ball Trophy. She was soooo good!
Last Tuesday, ABC announced the new cast for DWTS and it just so happens my high school has launched their very own DWTS campaign!
Season 2 of "Dancing With the Stars, Panther Style" will take place on Saturday, March 16, 2013 at 7pm at the Cade Community Center. Proceeds from this event benefit the Catholic High School Annual Giving Campaign.

This year, one of our MKB favorites and a big MKB supporter is part of the cast!  Sydney Jo Leblanc is partnering with Mr. Gordon Doerle to shimmy their way to the Mirror Ball Trophy!  They need our support and votes!   Each vote is $1 and all proceeds go to the Annual Giving Campaign.   Read all about Sydney Jo and Gordon below and cast your votes today!  It is quick and easy and supports, not only a dynamic dancing duo but also Catholic High School!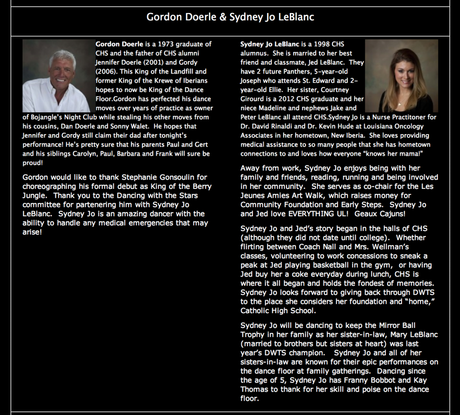 Good luck to everyone participating!  I'm just as excited to see who wins DWTS Panther Style as I am to watch ABC's version!  xoxo- Kellie